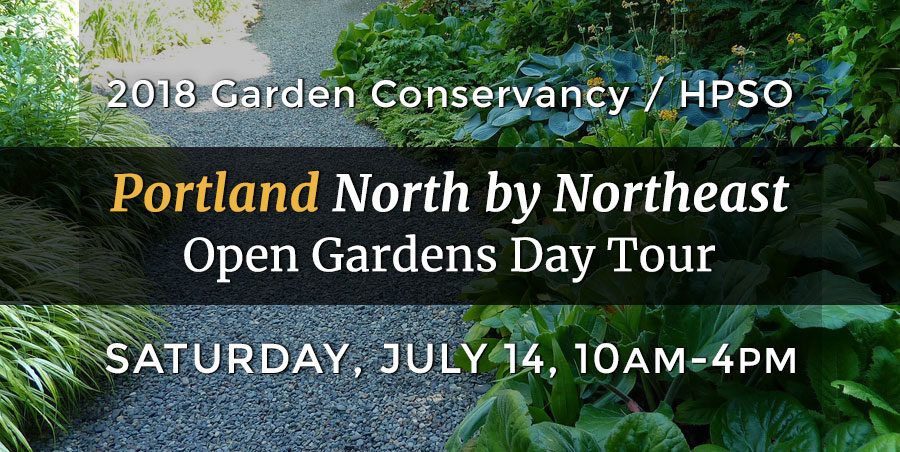 Don't you hate it when something fabulous ends up scheduled on a day you already have plans? That's why we're letting you know early about this year's Hardy Plant Society of Oregon / Garden Conservancy Open Garden Day…
July 14th, 2018
Save the date! / LEARN MORE…
This year's event will include touring seven outstanding private gardens in North/Northeast Portland plus free "Digging Deeper" programs at Garden Fever and Thicket Nursery. Timber Press authors will be signing books, and there will be pollinator classes from bee experts and water conservation information from the regional water consortium. All that, plus there's a wrap-up reception at Portland Nursery. You'll enjoy a day filled with gardening fun and learning plus you'll be supporting The Garden Conservancy and Hardy Plant Society of Oregon's Grants and Scholarships program. Tickets will be available in early May on the Hardy Plant Society of Oregon website and will also be available at Garden Fever, Thicket Nursery, and Portland Nursery.
This year is the 10th year the Garden Conservancy and the HPSO have teamed up to bring you open days. Founded in 1989, The Garden Conservancy has helped save or restore more than 80 gardens in North America. In 1995, The Garden Conservancy began organizing the opening of private gardens from coast to coast across the USA as a fundraiser to support their mission. This program has facilitated more than 75,000 garden visits to more than 3,000 gardens.
In supporting the mission of the Garden Conservancy, your ticket will be championing the continuing efforts to maintain gardens across the nation for public viewing. Some of those gardens in the Pacific Northwest include Peninsula Park Rose Garden (Portland), Elk Rock Gardens at Bishop's Close (Portland), Gaiety Hollow (Salem), Historic Deepwood Estate (Salem), Mukai Farm and Garden (Vashon Island), The Dunn Garden (Seattle), PowellsWood Garden (Federal Way), Soos Creek Botanical Garden (Auburn), and others.
Your ticket to Open Day also makes it possible for the Hardy Plant Society of Oregon to award grants each year to non-profit organizations throughout Oregon and Clark County, Washington. HPSO grants support projects of botanical, horticultural, or historical interest plus children's education and community gardens. Additionally, HPSO awards scholarships to students enrolled in horticultural programs at local community colleges. With over 2,500 members, the Hardy Plant Society of Oregon is one of the largest garden organizations on the west coast.
As the open day draws closer we'll share more info on the specific gardens which are part of this years event, until then save the date! (and please note all photos in this post are from previous year's tours!)
GROW WITH US
Join one of the West Coast's largest gardening communities and meet other gardeners who share your passion.