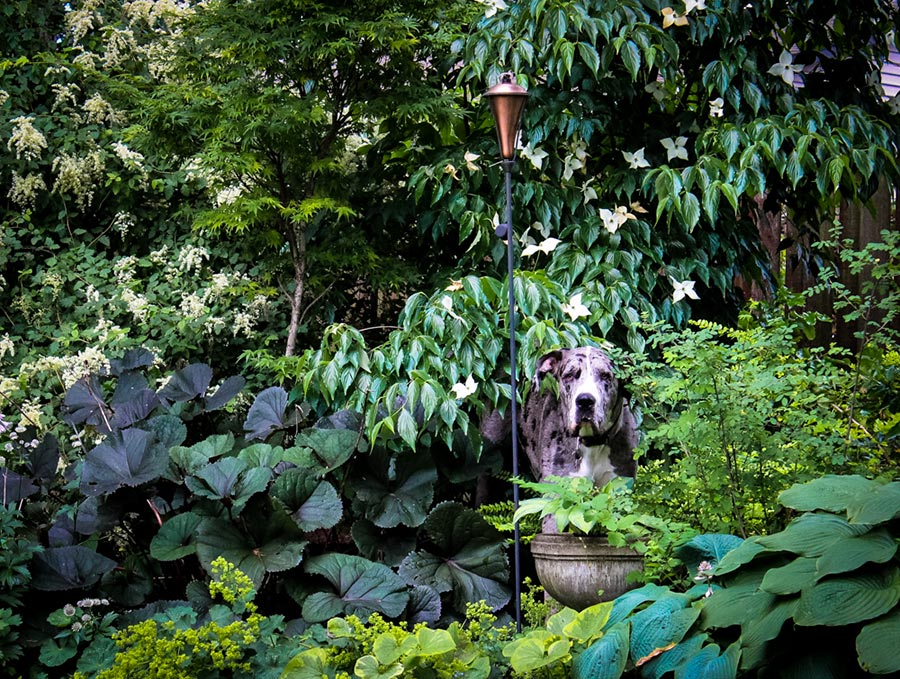 ARTICLE BY: LAURA HELDRETH
Laura Heldreth teaches beginning gardeners through her work as a garden coach and as an adjunct professor at Clark Community College where she teaches gardening courses through the community education program.  Laura volunteers through the Clark County WSU Master Gardeners organization and is recognized this year as its Master Gardener of the Year. Laura gardens in Vancouver, Washington.
***
The question that I most frequently ask a nursery employee is, "What do you have that grows in dry shade under Douglas Fir trees and that can handle the pee from Barnaby, my 200-pound male Great Dane?"
I'm always impressed when they show me actual plants instead of just directing me to the garden art section.
Thirteen years ago, I selected our house nestled under mature Douglas Fir trees because I loved the sound of the wind blowing through their branches and the sense of shelter that they gave the backyard. I purchased the largest hammock that I could find and three large Alice Oak Leaf Hydrangeas. I was on my way to learning how to successfully garden under big trees.
Tips to successfully garden under big trees:
Figure out the light conditions. It took me several years to figure out where the dappled shade ended and turned into full shade. The light conditions change with the seasons, windstorm damage, and whenever a neighbor removes a large tree.
Create an irrigation plan. Your garden will require water at least once a week during the summer drought and more during heat waves. Develop your strategy before you start putting in plants to save time and money down the road. Keep in mind that winter rains effectively reach the base of deciduous trees, but not evergreen trees.
Competitive roots. Large trees like the Douglas fir have most of their root systems in the top 12 to 18 inches of soil and spread out past the canopy's edges or drip lines. My back garden is filled with tree roots, so I plant smaller plants and work carefully not to injure the roots during garden projects. When we added a terraced stone pathway, I based the levels on the locations of the big tree roots.
Do your research on plants before you visit the nursery. A mix of drought tolerant PNW natives and non-natives work great around thirsty trees. There are many great online PNW resources to help you select plants that will thrive in dry shade like Great Plant Picks, Plant Lust, and eGardenGO. Ask your fellow gardeners and reach out to our local experts.
Tour gardens with similar conditions. When we joined the HPSO and started touring gardens our garden improved dramatically. We recently visited Gail Barnard's garden and left feeling giddy and filled with inspiration.
Embrace the mess. Living under big trees is messy and constantly changing. Instead of seeking the aesthetic of a perfectly clean garden, I embrace the fir needles, fallen branches, and cones as part of the sense of space. I rake the needles into the beds and use the fallen deciduous leaves to fertilize the garden. And don't forget to add a bark-based mulch to prevent weeds, hold in moisture, and regulate the soil temperature.
Take time to enjoy your garden. I'm happiest puttering in my garden, but I do stop to sip tea and enjoy the different views or take a nap in my hammock.
Gardening with big trees takes extra planning and care, but is worth the effort. The shade garden is an extension of our home, entertaining space, a classroom for visiting garden clubs, and our oasis. In case you were curious, I've discovered that these plants thrive in dry shade under a fir tree with a daily dose of Barnaby's urine:
Three-leaf Bittercress (Cardamine trifolia)
Barrenwort (Epimediums)
Creeping Raspberry (Rubus rolfei)
Fatshedera x lizei 'Annemieke'
Inside-out Flower (Vancouveria hexandra)
White Masterwort (Astrantia major 'Alba')
Jack Frost Silver Siberian Bugloss (Brunnera macrophylla 'Jack Frost')
GROW WITH US
Join one of the West Coast's largest gardening communities and meet other gardeners who share your passion.