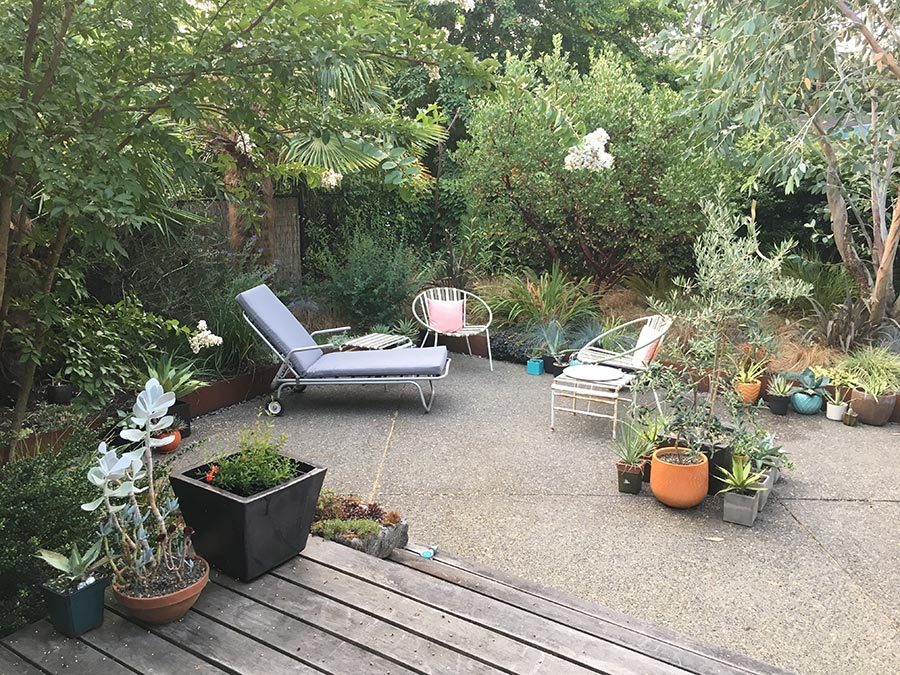 ARTICLE BY: JANE FINCH-HOWELL
Jane Finch-Howell blogs at Mulchmaid, where she practices zonal denial without a greenhouse. She enjoys simple forms, bright colors, tropical foliage, and anything in the Manzanita family.
***
It was the best of times, it was the worst of times, it was the age of wisdom, it was the age of foolishness, it was the epoch of belief, it was the epoch of incredulity, it was the season of Light, it was the season of Darkness, it was the spring of hope, it was the winter of despair…
About 18 months ago, Ben and I realized a long-held dream and bought a small second home in Astoria, Oregon. I have gardened at our main home in the Overlook neighborhood of Portland for eleven years. Despite many of the same regional conditions, now my gardening life regularly offers me both "the best of times" and "the worst of times" depending where I am and in which garden I am working.
Working in the Portland garden often feels like the best of times. It's well established and motors along with some seasonal attention and the inevitable addition of a few choice discoveries each year. The seasons bring beautiful changes that we have orchestrated over the years and that we anticipate and enjoy as they unfold.
The positives in the Portland garden include defined areas for gardening – a sunny front area, beds surrounding a patio, and what we refer to as The Northwest Territory, where we grow some natives and native cultivars. In this garden, the hardscape and paths are fully established and many mature specimens give structure to the plantings.
Despite its maturity, though, there are still challenges in the Portland garden. These include ongoing weeding, the increasing incursion of street tree roots, changing exposures as plants get bigger, and, of course, finding space for new acquisitions!
The new Astoria grounds are certainly contenders for the worst of times! A sunny, open slope beckons to this xeric gardener, but there are problem plantings that need management, and some issues to resolve, including yards and yards of deteriorating landscape fabric located 6-10 inches below the infill of weed-filled "grass".
Additional garden challenges in Astoria include a resident population of cute but voracious deer. Exposed cherry tree roots riddle the back yard lawn. There's also the challenge of a shoestring budget – since this is a second home we have to be extremely cost-conscious. Maintenance takes much of our tiny budget; we left one cherry tree, but took out three more that were crowded into the modest backyard, and a huge English laurel hedge had to be cut back hard. Finally, keeping any new plants irrigated is a challenge when we're not in Astoria every week.
On the positive side, that sunny, south-facing slope is just begging me to plant all the drought-tolerant Mediterranean plants I don't have the sun or room for in Portland.
I'm happy to report the Vaccinium, rosemary, lavender and Delosperma I planted in Astoria last year are doing well. And the secluded back patio has golden bamboo in a concrete planter creating a cool spot for hot afternoons.
I am thrilled by the thought of planting specimens such as Callistemon, Arctostaphylos, Phormium, Grevillea, Restio, Telopea, Leptospermum and more in all that empty space. Once I get them established, it won't matter that we can't be there every week to water.
Overall, I look forward to the process of turning my "winter of despair" into a "spring of hope" in my newer Astoria garden. And I hope to continue the journey beyond my original "age of foolishness' into a graceful "age of wisdom" in my established Portland garden.
Wish me energy, patience and a bit of luck with both these quests!
GROW WITH US
Join one of the West Coast's largest gardening communities and meet other gardeners who share your passion.