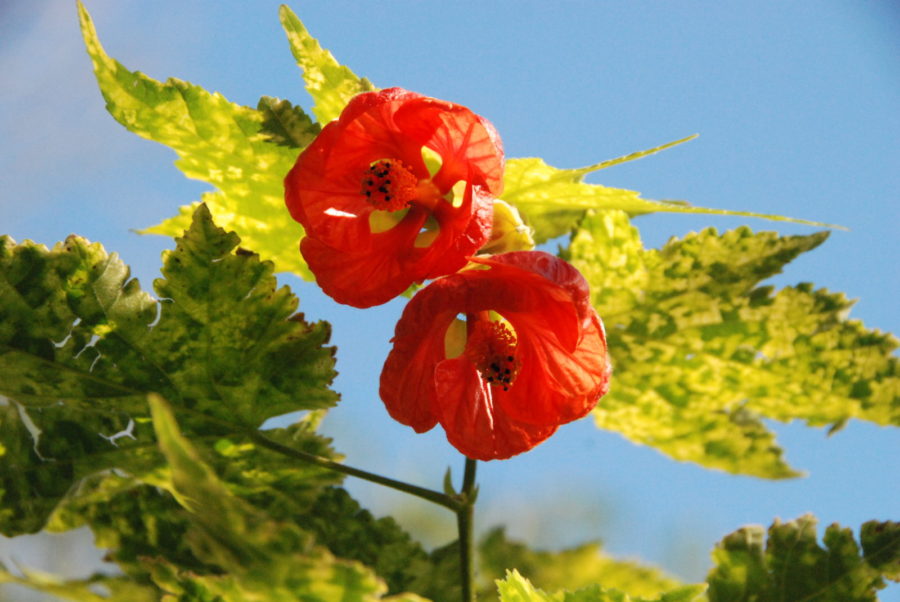 ARTICLE BY: JIM GERSBACH, Originally Published in the HPSO Bulletin in Fall 2000
Jim Gersbach's garden in northeast Portland includes a number of shrubs, trees and perennials from temperate South America and other remote corners of the globe.
***
Brazil. Just whispering the name conjures a lush, tropical landscape, where jungle giants are wrapped in lianas and the carefree inhabitants are clad in even less. Sultry Brazil, with an Amazon full of monkeys and macaws. Surely nothing from that paradise could grow outdoors in Portland, halfway to the North Pole?
Despite the seeming impossibility, something does. Right in my backyard. Two somethings in fact. They are bushes of Abutilon megapotamicum. The lengthy species name is Greek for 'big river." It refers to the Mississippi-sized Parana River, which drains the land where this plant grows wild.
Amber Hill had a few Abutilon megapotamicum for sale at HPSO's Fall Plant Sale in 1993. Attuned to plants that bloom in our best seasons – summer and autumn – I was instantly smitten by the two-toned flowers, which resemble little Chinese lanterns. Lipstick-red buds appear first, eventually opening at the bottom to reveal yellow pantaloons. From these, long anthers dangle alluringly before passing insects.
For seven dollars Amber Hill's last two bushes became mine. Planted out the next spring, they have repaid me with six years of almost continual bloom. During open garden weekends, visitors invariably make a beeline to the blossom-laden bushes and ooh and aah. Though many of my other garden plants evoke nary a nod of interest, the abutilon generates a buzz as surely as Pele generated soccer goals.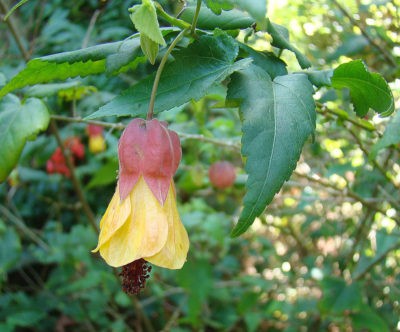 The admiration is well deserved. This plant is hands down the best performer among the more than 100 different species in my garden. It even outdoes the prolific bloomer Solanum crispum 'Glasnevin'. While that climber takes short breaks between rampant blooming and retires entirely for the winter, I can count on Abutilon megapotamicum to flower continuously until the first hard freeze. Last winter, it sailed with flowers unfurled all through December and January, never missing a beat.
In previous winters, temperatures in the mid-20s have damaged leaves and buds. Colder temperatures in the teens, especially those that remain below freezing during the day, have killed the plant almost to the ground.
The roots, however, survive, and with the warmth of spring the plants surge to life. With amazing speed they send forth new shoots. Within several weeks buds are hanging beneath the wire-thin branches on their little stalks. Through rainy springs, hot summers and cooling autumn days they produce a constant floral display.
As might be expected, to maintain such output this abutilon is a greedy feeder. I give it a rich, well-composted top-dressing two or three times a year, and a sprinkling of wood ash for good measure.
Members of the Malvaceae or mallow family, I haven't found them to be much bothered by pests. Aphids make occasional forays but are less of a problem than with my camellias. Not climbers but leaners, the best way to display these abutilons is to train the new shoots up through an one-inch wide wire mesh tomato cage and let the top spill out in all directions. Alternatively, a spot next to a fence or wall would provide both support and protection from wind. Be sure to site them in full sun, which ensures more flowers and robust growth.
Growth is not something to coax from this abutilon. Because both of mine border the path from my house to the driveway, every few weeks in warmer weather I have to hack back the bushes' tops and sides. If I didn't, the walkway would soon be swallowed up.
That fecundity seems tropical, yet the reason this shrub has persisted so long in a temperate garden is that it hails not from the equatorial north of Brazil but from the cooler southern states.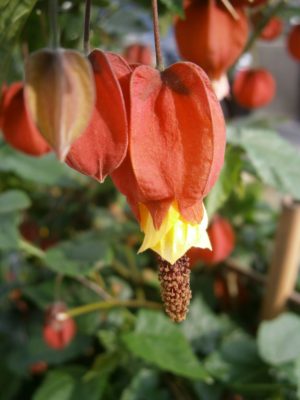 The Brazilians who live in that region are known as gauchos, just like their Argentine neighbors. We had a gaucho family residing in the town in the Brazilian highlands where I lived for a year as a high school exchange student. Members of the blonde Bauer family would talk – between sips of yerba mate drunk from a silver straw about – "the year it snowed down south," much the way Oregonians talk of the Columbus Day Storm.
While snow is an occasional phenomenon in the southern states of Rio Grande do Sul and Santa Catarina, at higher elevations wintertime frosts are common. Every decade or so the mercury may dip even lower. That is what has instilled a measure of hardiness on Abutilon megapotamicum, which British authors Roger Phillips and Martin Rix list as hardy to minus 10 degrees Celsius (about 14 degrees Fahrenheit).
Both of my abutilon bushes are planted against the house's south wall. A projecting covered porch and evergreen Hinoki cypress protect them from east winds. When the Weather Channel warns of temperatures in the lower teens, a bucket of mulch gets dumped on the roots and a cotton mesh blanket wrapped around the foliage.
Some strains of horticultural correctness hold that such effort expended on protecting "semi-hardy" plants is not to be countenanced. This attitude first surfaced in reaction to Victorian gardeners' enthusiasm for exotics. Fortunately, this "stick-to-your-own-zone" strictness seems to be less persuasive to Baby Boomers, with their penchant for experimentation.
In all honesty, the precautions I take against winterkill for my abutilons pose less of a burden than does preparing, planting and replacing a bed of annuals. The reward is unique and colorful flowers throughout three quarters of the year – and a chance to cherish close at hand a bewitching Brazilian beauty.
GROW WITH US
Join one of the West Coast's largest gardening communities and meet other gardeners who share your passion.