Hortlandia's 30th anniversary is coming up fast, and one of the ways we're celebrating is by focusing on pollinators. After all, where would we gardeners be without them?!  If you don't already know about it, Hortlandia is The Hardy Plant Society of Oregon's Annual Plant & Garden Art Sale on April 14 & 15, 2018 at the Portland EXPO Center.  The event features dozens of vendors from all over the Pacific Northwest — it's open to both HPSO members and non-members alike, and admission is FREE.
Paying Tribute to Pollinators
As any gardener knows, pollinators are crucial to the overall health and success of a garden ecosystem. We also rely on pollinators for at least one-third of the foods we eat! But there's growing concern that pollinator populations are declining, so what we do in our own yards to help provide healthy habitat is more important than ever.
To pay tribute to our pollinators, we've planned some special Hortlandia activities to help you learn more about creating a backyard pollinator refuge. Many nurseries at Hortlandia will offer plants for pollinators — just look for the yellow sign. And on Sunday, April 15 at 1pm, we're offering a couple of workshops so you can gather more information and/or ask questions.
Oregon's Native Bees
When we speak about pollinators, honeybees often get most of the attention. But honeybees are not native to the US, the European honeybee was imported to help farmers pollinate crops. They're a domesticated species that are "managed" because of their social nature. Of course, we all love them for the gift of nature they provide: delicious and nutritious raw honey!
We encourage gardeners to learn more about our native bees, which can co-exist with honeybees, but when there is not enough forage, they do compete. The natural cycle has evolved so that native plants bloom as various native bees become active, so planting native flowers, bunch grasses, shrubs, and trees is always good for wild bees!
There are more than 500 native bee species in Oregon (about 4000 in the US and 20,000 worldwide!) that are essential pollinators. If you have pollinator habitat in your yard, you probably host some natives including early spring Mason Bees and bumblebees.
To get you started, here's a handy pocket guide to the common Bees of Portland: https://www.portlandoregon.gov/parks/article/585770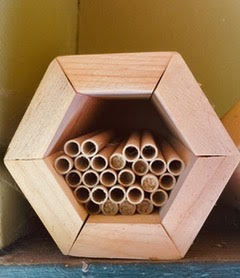 Mason Bees aka Blue Orchard Bees
Mason bees are the earliest native bees to become active in the spring, they are also known as Blue Orchard Bees because they're most likely to pollinate your fruit trees. It's easy to attract them to your garden by putting out houses (nests) that contain cardboard tubes with cavities that are the size in which Mason Bees lay their eggs. The masons build mud walls to separate larvae, and will also cap off the end of the tube with mud. They're solitary bees that are gentle and excellent pollinators – about 90% more efficient than honeybees! A couple of Hortlandia vendors have Mason Bee houses for sale, visit Swarm Portland and Nice Nests. Note: The mason bee trade is popular so if you buy mason bees, please be sure that you are purchasing local species.
Other Pollinators
Don't forget that beyond bees, there are lots of insects that pollinate our plants, including butterflies, moths, wasps, flies, beetles, ants, and also bats and hummingbirds.  The Willamette Valley alone is home to over 50 native species of butterflies, many of which are at-risk.  So consider the overall ecosystem of your garden to help all our important pollinators.
Plant for Pollinators
Many Hortlandia nurseries will have plants that can attract pollinators, look for the yellow "Pollinator Plants" sign. If you're planning your garden now, these are a few simple steps to consider:
Plant for a succession of bloom: spring, summer and fall blooming pollinator-friendly plants help provide pollen and nectar throughout the growing season. Usually there's plenty for bees in summer, so think about early spring (columbine, crocus, borage) and late fall (asters, zinnias, goldenrod). Although many call dandelions a weed, they actually provide the longest blooms, up to six months and bees love them!
Pesticide-free gardens are safe for pollinators. Planting to attract beneficial bugs can help control unwanted pests. The Hortlandia nurseries that offer pollinator plants have committed to avoiding neonicotinoids, which are harmful to bees and systemic in plants throughout their lifecycle. If you buy plants at nurseries, please ask if they contain neonics. Here is a simple guide for natural pest control: https://www.organiclesson.com/beneficial-insects-garden-pest-control/
Ideally, planting in clumps of 2-3 feet across of pollinator-friendly species is helpful for bee foraging (as opposed to interspersed planting). If you have the room you could plant clumps of spring + summer + fall blooming single species.
Trees for Bees – many native trees and shrubs provide pollen and nectar for native bees. Some options include Oregon Grape, flowering currants, Vine Maple, Nootka Rose, Elderberry, Crab Apple, and Madrone – to name a few.
Bees need habitat in addition to forage. While honeybees live in large colonies, native bees live in very small colonies or are are solitary. 70% of native bees nest in the ground and need a sunny area with bare soil or little vegetation. Some natives use old mouse holes, beetle tunnels, holes in trees, and pithy stems. Having a less tidy garden can be helpful to wild bees.
Bees need water just like birds, so if you put out a bee bath it's best to have some stepping stones for the bees.
Cover crops can bee pollinator-friendly, choose flowering options such as buckwheat and mustard.
In addition to wild bees, monarch butterfly populations are declining, so planting milkweed provides critical habitat. Visit Hortlandia vendor Milkweed & Mustard Seed to get some local milkweed plant starts.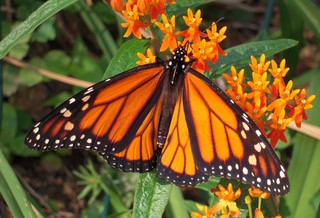 Online Resources:
(Featured image by Oregon State University on Flickr: https://www.flickr.com/photos/oregonstateuniversity/10021785096)
GROW WITH US
Join one of the West Coast's largest gardening communities and meet other gardeners who share your passion.