ARTICLE BY: BOB HYLAND
Bob Hyland is a Portland-based garden designer and former HPSO board member. He sells an eclectic, contemporary assortment of outdoor garden pots at his shop Contained Exuberance next to Xera Plants in southeast Portland. Bob designs container displays and plant-driven gardens when not in his Shop.
***
I love pairing pots and plants to boost a garden, outdoor patio, and business entrance in Portland's summer-dry climate. Well-placed containers carrying artful plant combinations become focal points during the dog days of July and August. Granted, that's easier for me to say and do with a shop full of garden pottery at my disposal and wonderful plants a few steps next door at Xera.
A large pine planter box in front of my Shop greets summer shoppers with a play of Ribes sanguineum 'Xera's Lime Punch', Panicum virgatum 'Heavy Metal', Sanguisorba amplexicaulis 'Golden Arrow' and Calibrachoa Superbells 'Pomegranate Punch'
This Saturday, July 14, I will be selling a variety of planted and empty tabletop size containers at the garden of HPSO member Nancy Goldman on the Garden Conservancy/HPSO Open Gardens Day Tour featuring Nancy's and six other outstanding private gardens in north and northeast Portland. Proceeds from the tour go to the HPSO Grants and Scholarship funds as well as to the Garden Conservancy which works to save, preserve and restore gardens across North America.
You can bid on and take home this cast stone trough that I've donated to benefit the tour. It's planted with Sempervivum mix, Sedum rupestre 'Angelina' and Acaena inermis 'Purpurea'.
Here's a sampling of other container plantings I've got going around Portland this summer…
MOVEABLE ART
Like furniture in the house, pots don't have to stay in the same spot year-in-year-out. (I'm often guilty of this!). Use pots to hide summer plant failures and redirect attention.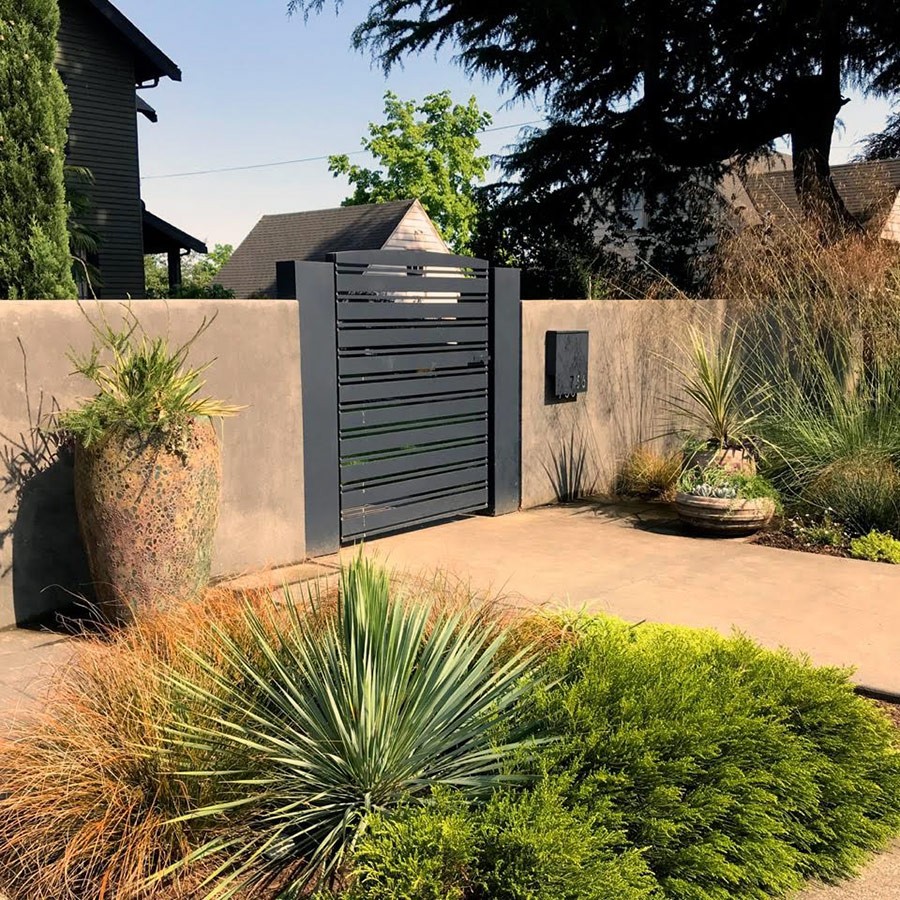 At this entrance to a client's garden on Mt. Tabor, I've used a tall multi-glazed, earthenware pot as the sculptural centerpiece to the left of the garden gate supported by two lower pots on the right. The neutral stucco walls allow for ever-changing shadow play and added dimension at the entrance. Strong, architectural plants like Callistemon sieberi, Yucca filamentosa 'Bright Edge', and Cordyline australis 'Torbay Dazzler' are featured.
ENTRANCE DRAMA
On busy Division St. in southeast Portland I've used twin pots to provide symmetry and drama at the shaded, south-facing entrance to Holiday (formerly Roman Candle Bakers). The cast stone rain barrels add pot texture to accompany the stunning variegated foliage of Acanthus 'Whitewater'. The new leaf stencils on the windows and doors ain't bad either!
OUTDOOR DINING
I love eating outdoors during long summer days and nights on our deck or a well-designed patio at one of Portland's restaurants. I work with businesses to provide escape from traffic noise and foul streetside odors. It's a bit of "trick the mind, trick the senses."
At Nostrana we've planted Woolly Pockets (now WallyGro) made from post consumer recycled plastic bottles that hang from corten steel dividers to provide a textured living wall and boundary from the parking lot.
AERIAL DELIGHT
For clients with limited space, I'm fond of using colorful aluminum hover dishes from Pot, Inc. in Vancouver, British Columbia. Available in my Shop and mail order.
A simple planting of Hakonechloa macra 'All Gold' and Trachelospermum asiatum 'Ogon Nishiki' (like this example hanging beside our mudroom door) never fails to spark conversation and is so much easier to keep going than a busy hanging basket mix of petunias.
See you this Saturday in Nancy Goldman's driveway!
GROW WITH US
Join one of the West Coast's largest gardening communities and meet other gardeners who share your passion.