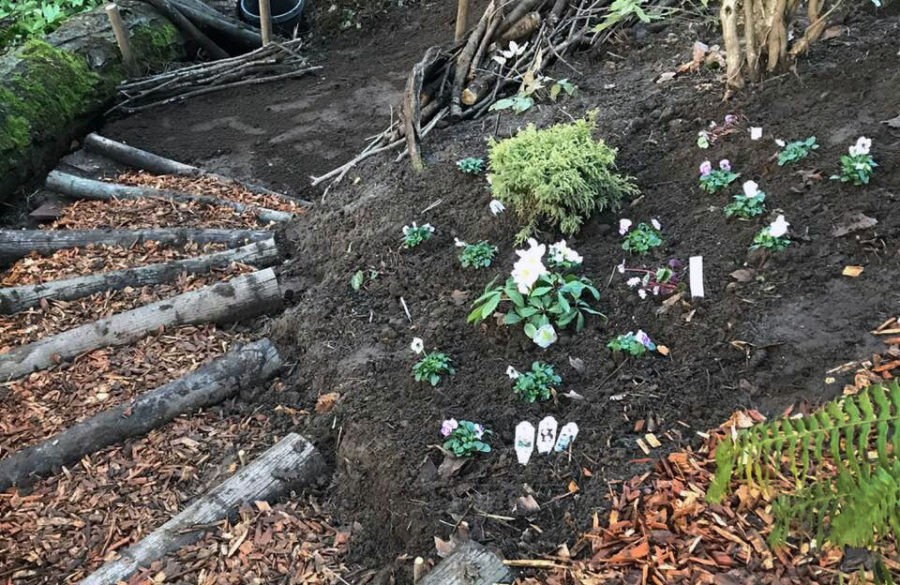 ARTICLE BY: VANESSA GARDNER NAGEL
Vanessa Gardner Nagel, APLD, NCIDQ is a member of HPSO, and a Nationally-Certified Landscape Designer, Author, and Lecturer. She's served as a Design judge for Garden Design Magazine at 2018 NWFGS, and the upcoming 2018 APLD International Design Competition. She owns Seasons Garden Design, an award-winning, sustainable landscape design company serving the Portland, OR and SW Washington regions.
***
Sometimes designers have to travel far away to discover great garden ideas. A few years ago while visiting Rome, I saw an intriguing soil retention method on the Palatine Hill. There, 5" diameter logs were driven vertically into a 1:6 slope at 4' apart. Similar wood logs were used horizontally across the back of the two posts to prevent the soil from sliding down the hill. On that same trip, at the amazing garden of Villa d'Este, I discovered another version of soil stabilization. Smaller, shorter wood posts with pruned branches laid across the back were used to stabilize the soil. Growing over them were vines and shrubs, so the structures were only partially visible.
A light bulb went off in my brain. Back home, I had wanted to renovate a steep ravine next to my house, veiled in ivy, blackberry, and nettles. Here was an inexpensive method I could use with materials readily available on my site.
Soon after I returned home, a friend told me that this type of structure is called "fascine." At last I had a search term that I could use to continue my fascine education.
Nine months later, in the ravine a tree crew removed three deteriorating cherry trees and one of our big-leaf maples. That provided ample material in precisely the right area to build structures to stabilize our slopes. The tree crew cut any branches that were between 4-10" in diameter into 4-foot lengths, so I could use those as step nosings or as horizontals to retain 1-2' grade changes in combination with 2-3 foot rebar stakes.
On the hunt for more fascine inspiration, I found it when I visited the new addition to the Portland Japanese Garden. Walking up from the ticket office to the garden above, I noticed their elegant example of fascine, using bamboo, Japanese black twine, and 6" diameter burlap-wrapped tubes of small twigs.
I had plenty of small twigs. I also happened to have yards of burlap that I could recycle for soil retention. For visual consistency, I purchased tree stakes for my vertical staking. Then a contractor offered me broken tree stakes collected from her projects. Free, recyclable materials! How perfect is that?
Fascine materials decompose; so their constructions include dense plantings that will grow into the hillside and eventually hold the soil on their own. Ideal plants are ferns and grasses, because they have fibrous roots. Rhizomatous-rooting plants, like our native salal and box honeysuckle, are also good candidates. They will thicket into the soil and both take drier soils while tolerating a light range from sun to shade. Trees with deep roots are also welcome, but plant these when very young to minimize soil surface disruption. I recommend using one gallon or smaller plants on slopes.
If you have hillsides that you want to stabilize but don't want to spend vast sums of money on expensive retaining walls and have readily available materials similar to mine, this may be a viable way for you to prevent erosion. Of course, with extreme situations, like visible soil cracking, or other concerns, always consult with a geotechnical engineer for additional advice.
***
If you want to see the fascine Vanessa is creating in her ravine, contact her for an appointment at 360-546-2746 or vanessa@seasonsgardendesign.com.
GROW WITH US
Join one of the West Coast's largest gardening communities and meet other gardeners who share your passion.