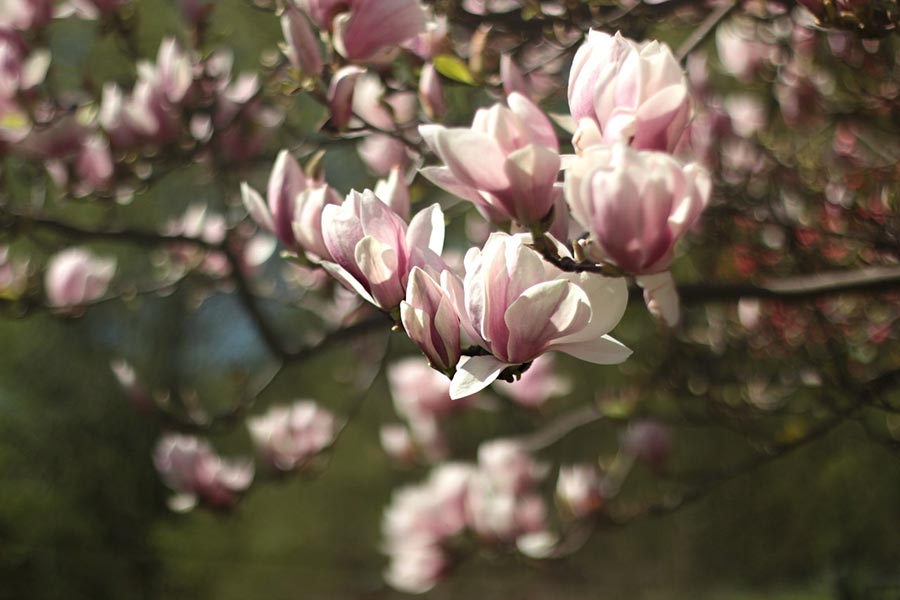 ARTICLE BY: RICHARD HOFFMAN
Richard Hoffman is a member of the HPSO Board and his current interests range from identifying edible wildflowers to working edible plants into a mostly ornamental garden.
***
One of the joys of gardening stems from experimentation. As gardeners, we're always trying to benefit the plants within our garden, find diverse ways to utilize the garden space, increase garden sustainability, improve the quality of our garden design, grow food for the table, and provide more visual, tactile and olfactory beauty. Curiosity initiates garden experimentation also, featuring age-old statements and questions like: "I wonder what would happen when…" or "what if…?"
An art form, gardening features color, form, line, volume, and texture. Hardscape such as concrete patios, wooden or metal trellises, or rock walls bring a certain amount of permanence to the garden supplying structure for the softscape that includes the world of living things. As a garden artist we get to rearrange many things to suit our needs, but the softscape changes constantly on its own. For this reason, gardening becomes an art of change. The more we know, the more we want to learn; gardening grows into a passion. Reading about gardening in books or researching on the Internet really helps, but sometimes, the answers to certain questions become difficult, or impossible, to find. Welcome to the world of garden experiment!
First moving into Gladstone, Oregon, the soil, very heavy clay, topped a layer of river rock only a foot to two feet below the soil surface. What could be done to make the soil more friable and nurturing to plants? Adding sand would only create a kind of cement. Research and more research…compost…that's the answer. Not only does compost enrich the soil, but the acids produced by the compost helps release minerals from rocks. An Israeli article from 1976 suggests that compost helps in the weathering of basalt rocks, the predominant rock here in western Oregon. (https://www.nature.com/articles/262479a0) The experiment—bring in truckloads of the best compost and create mounds of compost on top of the clay soil for planting. Allow plant roots to hold the compost mounds in place. Forests exist for years without fertilizer. Would compost with no fertilizer support plants? More experiments and the long-term answer—yes! That experiment started in the days before mycorrhizal organisms and their relationship with plants became a hot horticultural research topic.  Thin white filaments in the compost mounds…what was that? Now, we know, mycorrhizal fungi!
The forests of western Oregon, lush and wondrous, caught my attention immediately when I moved here in the mid-1970s. No matter how difficult the day, a walk in the forest brought a sense of peace and calm.  The native plants "sang their soft songs," bringing a respite like no other. Shortly after moving into our home in Gladstone during the late 1990s, many native plants took up residence in garden beds.  Native plants provide an incredible amount of satisfaction.  Not only do they remind us of walks in the forest, but they thrive in partial to deep shade. Beautiful scents emerge from some of these plants, such as Smilacina racemosa (False Solomon's Seal) and Smilacina stellata (Starry False Solomon's Seal). Native plants provide a tremendously attractive form that goes with other shade plants. Examples of these include Erythroniums (Fawn Lilies); Trilliums, Blechnum spicant (Deer Fern), and Adiantum (Maidenhair Ferns). Native groundcovers protect the soil, provide wonderful color and texture that add much to the scenic attractiveness of a forest and a native garden bed. These include: Oxalis oregana (Wood Sorrel), Trientalis borealis (Northern Starflower), Vancouveria hexandra (Inside Out Flower), and Hydrophyllum tenuipes (Pacific Waterleaf), amongst others. Many native plants follow the permaculture goal of multifunctional use. For example, Vaccinium ovatum (Evergreen Huckleberry) provides food for people and animals; Xerophyllum tenax (Beargrass) supplied the raw materials for Native American basketry in the Pacific Northwest; and Thuja plicata (Western Red Cedar) supplied the raw materials for canoe building. Although we possess no Western Red Cedar in our current garden, in a former home this tree was a favorite for climbing.  Sun-loving native plants, such as Camassia species (Camas Lily,) provided food for Native American groups, and today creates brilliant blue-violet spring displays.
At a previous home in Gresham we grew the ultimate in native plants: Ulnus Rubra, otherwise known as Red Alder, a tall deciduous, hardwood tree that needs open sunlight and prefers moist areas. What makes red alder so special? Like the legumes, red alder cooperates with a nitrogen-fixing bacteria, called Frankia alni. Found in the root nodules of the red alder, Frankia alni permits red alder to inhabit poor quality soil and pull nitrogen right out of the air. When the tree drops its leaves in the fall, the soil under the tree becomes greatly enriched, hosting a tremendous variety of smaller trees and shrubs, forested beauty! Animals of all kinds are attracted to the bounty found in a red alder forest community. The Native Americans made extensive use of Red Alder: Inner bark provided food supplements, the bark exuded sap when wounded, used by many tribes as a clothing dye. Roots of Red Alder made baskets. The sap, the bark and other tree parts supplied medicines and antiseptics. Red alder wood burns clean and hot; Native Americans smoked salmon for preservation. In life and in death, the red alder still provides for all around; the beneficent Giving Tree depicted in a book by Shel Silverstein. Knowledge about the red alder led me to experiment with the magnolia tree.
In the backyard, a Magnolia x soulangeana (saucer magnolia), planted by a previous owner, drove me crazy. First, in the spring, the magnolia dropped a gray hairy bud, then a sea of huge pinkish petals that got mushy quickly, followed by infertile seed pods, dead branches, and finally leaves, then reloaded for the next spring. What a mess, all over my native plant bed.  An experiment: what if I gave the magnolia its own space and permitted the tree to do everything in peace. Although a magnolia does not fix nitrogen like the red alder, could the magnolia provide nutrients to the soil? Would perennial plants grow through all that litter?  Believe it or not, this worked better than my wildest expectations. Each year, the magnolia strews the ground from March through December, making a rich litter that composts in a no-till garden. All that needs to be done: toss some clean compost on the magnolia remnants occasionally and transport the pathway magnolia residue to the compost heaps. The result: a garden remarkably rich in organic matter, a much less tired gardener, and a healthy magnolia.
Solving one problem often brings another problem to light. Our golden retriever moved into our Gladstone house with us. Her name was Molly, but we affectionately called her Big Foot at times because she headed into the native garden, trampling everything in sight. How does a person keep a dog from flattening a beloved garden bed, especially when tree litter disguises the bed edges? The solution came to us gradually. Snipping apart no longer functional conical tomato cages, I created loops to surround important flowers like trilliums. When our dog started through the native bed, she would contact a part of the tomato cage and good-naturedly remark, or so I thought, "Right…plant: I'm not supposed to be here; I'll go somewhere else." In addition, I started placing decent-sized, triangular gray basaltic rocks to distinguish the edges of path and flower beds. Then, we could train Molly to remain on the path by avoiding the rocks. That system worked quite well for our dear, dog friend, and with very few exceptions, she learned to stay out of the flower beds. Unexpected benefits came our way. The gray basalt, through water erosion, supplied mineral nutrients to the garden. Also, the rocks helped to keep the magnolia leaf litter in place to compost. The tomato cage loops reminded me of the position of dormant natives in winter, saving me from putting plants where plants already resided.
Sadly, not all garden experiments produce such encouraging results. Living in such a forgiving climate, we try to stretch the limits of our environment. This "climate denial" can produce great results for those who do the planting well. For me the climate denial experiment yielded disappointment. Falling in love with Hebe, an evergreen plant native to New Zealand, I put a few into the ground. Evergreen leaves, plentifully arranged with great eye appeal, the Hebe flowers attract butterflies, and the flower spikes display colors significantly unlike those customarily found in plants. The Hebe collection increased until one particularly bitter winter. A couple of the Hebes succumbed to the ice and snow. The rest continued undaunted until one day when the temperature began at 19 degrees F. in the morning and rose to 76 degrees F. by the afternoon. The rest of the Hebes quietly died in the next few days.
For years now, the news featured articles about the death of bees and continues to do so. When the bee stories first came out, I wondered what I could do in my own garden to help the bees and other pollinators. Observation often precedes my experiments, so I started to look around the garden to see what bees liked. Definitely, bees seemed to like Echinacea purpurea, a midwestern U.S. native, so I planted more Echinacea. Borage reseeded prolifically in the soil after one planting, and the bees visited borage in numbers. At first, borage scared me by how many plants reseeded, but after recognizing the early leaves, borage became quite easy to keep in check. Allium flowers attracted the bees, too, and spread out from seed and bulb multiplication. Eryngium, a kind of thistle, acted like a bee magnet when its flowers bloomed. Asters, already planted at the edge of the yard, drew bees in numbers. Family members, allergic to bee stings, avoided this one area. Soon, an entire section of the front yard became a refuge for bees, with flowers blooming continuously from late April through December: Bee Haven!
Because a garden continuously breeds continuous experimentation, many more experiments took place that you might find informative and inspire you to do some experiments of your own. So many people gave me inspiration from the HPSO garden tour, and local area nurseries that more articles about garden experiment will be forthcoming. I want to say, "thank you," to all the gardeners in the Hardy Plant Society who helped me on my gardening voyage of discovery.
Look forward to learning about what to do when you run out of ground space, how to use companion plants in the vegetable garden, the important role of chickens in maintaining and enriching the garden, plant collecting, how to keep cats from using your vegetable garden as a litter box, and many other topics. If possible, please let me know about the results of your own garden experiments. I'm always trying to learn new ways to make the garden better. You can reach me at hoffman43210@msn.com.
GROW WITH US
Join one of the West Coast's largest gardening communities and meet other gardeners who share your passion.