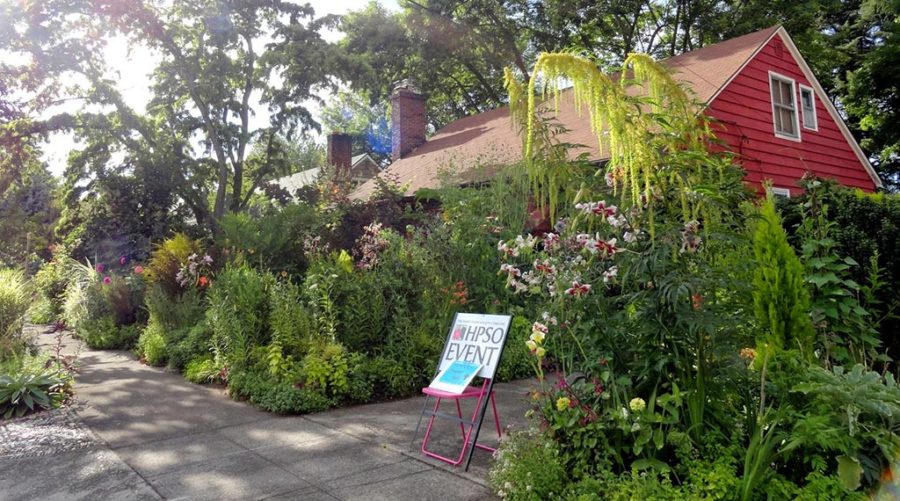 ARTICLE BY: NANCY GOLDMAN
Nancy Goldman is an active member and past president, and board member of HPSO. She leads HPSO tours, and is instrumental in putting on our large programs. She gardens in NE Portland, and regularly opens her garden to members. Lucky us!
***
Oh I do love gardening, especially in the Pacific Northwest. I was born and raised in North Dakota and also spent time in northern Minnesota where gardening is, at times, challenging. I do appreciate the prairie and it is a great place where tomatoes ripen and zinnias and petunias excel. But upon moving to Oregon I quickly realized there was a much wider and broader plant palette.
I've been a member of the Hardy Plant Society of Oregon for over 25 years. This organization has a plethora of opportunities for gardeners and anyone interested in horticulture… from plant sales to workshops, from speakers to tours, and a big perk is visiting other member's open gardens. If you are not a member I encourage you to check us out and join. There's something for everyone and it's a group of gardeners from all levels who are happy and willing to learn and share experiences.
I live and garden in NE Portland at Nancyland. Our property is a lot and a half and I've been busy filling the space. The front garden, open to the public, has everything from trees and shrubs to perennials and annuals. The back garden is much larger and features over 40 containers along with a bevy of other plants.
Although the garden as a whole gives me pleasure I tend to focus on the details. If you know me you won't be surprised by that! Even when I visit other gardens I often focus on the details… little treasures, plants up close and personal, and the artistry of a well placed garden accoutrement. Personally I am always looking for new ways to incorporate these things in my own garden. Some of these elements are high heeled shoes planted with succulents, "faces", and even a sink provided by Sean Hogan, noted horticulturist, planted with shade loving plants. One man's treasure is another man's delight!
My garden is open for this year's HPSO's Garden Conservancy Tour on July 14th. Become a member, and Please check out the Hardy Plant Society of Oregon website, hardyplantsociety.org, and come visit.
*Featured photo at the top of the post by Loree Bohl
GROW WITH US
Join one of the West Coast's largest gardening communities and meet other gardeners who share your passion.