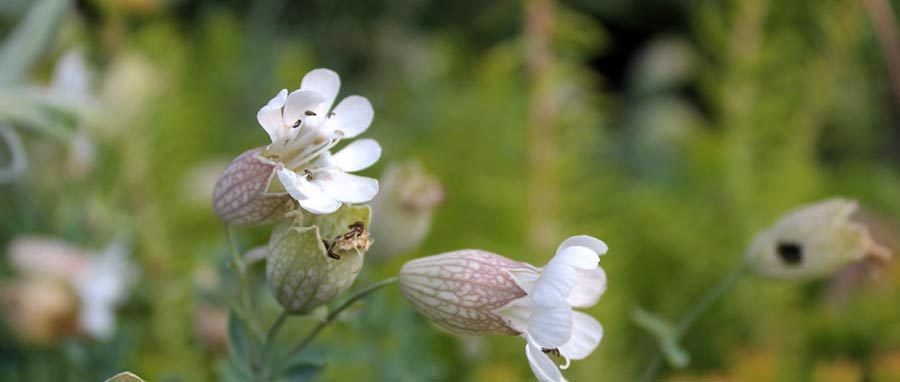 ARTICLE BY: KATE McMILLAN
Kate McMillan is a HPSO Board member and owner of Cultiverity, a garden design company in Portland. When she's not working on her own or someone else's garden, she's running her web design studio, Outbox Online. She can often be found posting to the HPSO Facebook page, Instagram and Twitter feeds, and coordinating this blog.
***
You know that person who is always like, "Have you heard about ____? You have to try it!" That's me with ground cover. I tell everyone about its virtues in the garden, and why not? It's the answer to so many things:
Weed Suppression.  For anyone with a deficit of time or a bad back — or just those who like to lord it over others for their lack of weeds — this is a big deal.  If I told you that you could practically eliminate the need for weeding in your garden by planting more plants, wouldn't you be thrilled?  It's far better to have a lovely plant you selected covering bare soil rather than an invader with nefarious tendencies.
Prevention of Moisture Loss.  Shading the soil in our warm, dry summer conditions helps moisture that you do add stay put longer, and prevents accelerated evaporation.  And many ground covers are drought tolerant, so you're not adding something else that needs additional water.  Water is a precious resource (Even here in the PNW!), so let's treat it like one.
Beautification.  Ground cover gives you an easy way to knit together different parts of your garden with a common design element and, just like larger plants, they provide color, texture, scent, and interest throughout the year.  This includes on slopes that can be difficult to plant, but where your ground cover will do the soil retention work for you and help prevent erosion.
Pollinator Benefit.  Most ground covers bloom, and they often provide pollen and scent that attract beneficial insects, further increasing the biodiversity in your garden.
Low Maintenance Gardening.  By choosing ground covers that aren't overly ambitious (I'm looking at you, Vinca!), you are adding a layer to your garden that requires nothing from you while giving you all of the above benefits.
But what do I mean by ground cover?  I'm referring to perennial (often evergreen), low-growing, spreading plants that tend to hug the ground, from just above soil level to around 18″ high.  They tend to slowly form a mat over the soil and play well with others, growing easily around larger plants and mingling happily with their neighbors, including bulbs. You can also use free-standing plants (sedge, heuchera, ferns, etc..) as ground cover when densely planted in a matrix.
From hot, sun-baked areas, to dry shade, there's a ground cover for every situation.  There are currently 2165 options when searching for ground covers up to Zone 8a on PlantLust.com, so there really is something for everyone.
Now, I can hear some of you saying, "But Kate, ground covers can be total thugs!  I once saw some Creeping Jenny swallow up someone's entire garden!"  That is a real risk.  Just like with any plant, you want to choose the right plant for the right place.  There are some ground covers that I would never recommend someone use in their garden, either because I know them to be invasive, or they don't play well with others.  Here's a quick list of plants I suggest you stay away from:
Bishop's Weed (Aegopodium podagraria)
Creeping Jenny (Lysimachia nummularia)
Italian arum (Arum italicum)
Ivy (Hedera all varieties)
Large & Small-leaf Periwinkle (Vinca spp.)
Mint (Mentha all varieties)
But even some of those (eg: Vinca or Mint) can be lovely in a container where they can't jump ship and ruin your gardening life.  It's puzzling how many of those plants can be easily found for purchase to an unsuspecting consumer, and that's much of the reason ground covers get a bad name.  But there are so many that are lovely, well-behaved plants.  Let's talk about some of those!…
I was recently at Longwood Gardens in Pennsylvania where this woodland garden had a wonderful tapestry of ground cover in an area recently exposed by the loss of a deciduous tree.  There's lots of Cinnamon Fern (Osmundastrum cinnamomeum) and Tiarella, and I was reminded how great ferns are at covering ground, especially in shade.
Here's a list of my favorite ferns for covering ground:
Himalayan maidenhair fern (Adiantum venustum)
Leatherleaf fern (Polypodium scouleri)
Ostrich fern (Matteuccia struthiopteris) — more of a colonizer than a ground cover, but plays a similar role
Also at Longwood, but for a hot, sunny site, is this wonderful combo of silvery leaves.  Obviously this particular combination isn't hardy for us, but sempervivum can give you a similar effect with other hardy options.
Here are my favorite ground covers for sunny spots:
Dianthus — smaller varieties like 'Firewitch'
Dwarf Lamb's Ears (Stachys byzantina 'Silky Fleece')
Hens & Chicks (Sempervivum)
Sea Campion (Silene Uniflora)
Sedum – any variety
Wooly Thyme (Thymus pseudolanuginosus)
I was also lucky enough to visit the Highline in New York City, where there was ground cover everywhere you looked, forming a gorgeous matrix of plants that carried themes from area to area. Here's a particularly beautiful combo of Carex and Heuchera with Fringe Cup (Tellima grandiflora) growing in a minimal amount of soil and handling the conditions there beautifully.
If you have a spot that stays relatively moist in summer, you might consider Hardy Impatiens (Impatiens omeiana).  Here it's seen in the garden of Vanessa Gardner Nagel mingling with Japanese Forest Grass (Hakonechloa macra), where it lights up a shady area.
Hosta is also a wonderful ground cover, from big to small, it can cover large areas in warmer months.
My favorite ground covers for shady spots (that aren't ferns) include:
Bleeding Heart (Dicentra formosa 'Langtrees')
Creeping Speedwell (Veronica peduncularis 'Georgia Blue') — part shade
Ivy-leaved Cyclamen (Cyclamen hederifolium)
Barrenwort (Epimedium)
Heuchera / Heucherella / Tiarella
Tiny Hostas
Trifoliate Bittercress (Cardamine trifolia)
You can even use annuals to cover ground either temporarily or as part of an ever-changing display.  I always plant some Sweet Alyssum (Lobularia maritima) in my garden because the bees love it so much.
I also rely on California Poppy (Eschscholzia californica) in sunny areas that aren't yet ready for a final planting because they're so easy to grow from seed, and they're cheerful and easy to rip out when you're ready to move on.  I like to mix in other colors with the traditional orange.  If you look carefully in the photo below, you can also see a self-seeded Castor Bean (Ricinus communis) that will dominate this space later in the season.
I also use ground cover in my container plantings. Just as they shade the soil and smother weeds in the ground, they do the same thing in containers.  They can also echo the colors of the main containerized plant, provide a cascade down the side of a pot, and/or give you some textural contrast.
Finally, here are some photos from my own garden (a 50×100′ Inner SE Portland City lot), where you can see how I use ground cover throughout — in sun and shade, to knit together plantings, to provide seasonal color, and to cover any and all exposed ground.
I also use native ground covers throughout my garden (we are a Certified Backyard Habitat), and here are some favorites:
Bleeding Heart (Lamprocapnos formosa / aka Dicentra Formosa)
Inside-out Flower (Vancouveria hexandra)
Kinnikinick (Arctostaphylos uva-ursi)
Oregon stonecrop (Sedum oreganum)
Wood Sorrel (Oxalis oregana)
If your garden is large, you can think on a larger scale with larger areas of the same plant, and even larger-sized plants as ground cover.  If your garden is small, ground cover allows you to experiment with color and texture throughout your garden without taking up much space.  Even if you're gardening on a balcony, ground cover in containers can enhance any display.
I encourage you to think of ground cover as a living mulch.  There is certainly a place for mulch like bark, or gravel, or hazelnut shells (etc..), but those don't have to be a long-term solution.  Those mulches are perfect when you've created a new bed and there's lots of space between your plants when they're quite small — they too will help you smother weeds and retain soil moisture — but to see them as an annual addition to your garden is an unnecessary expenditure of time, money, and natural resources.  Personally, I'd much rather plant ground cover and enjoy its usefulness, and beauty, over time.
GROW WITH US
Join one of the West Coast's largest gardening communities and meet other gardeners who share your passion.