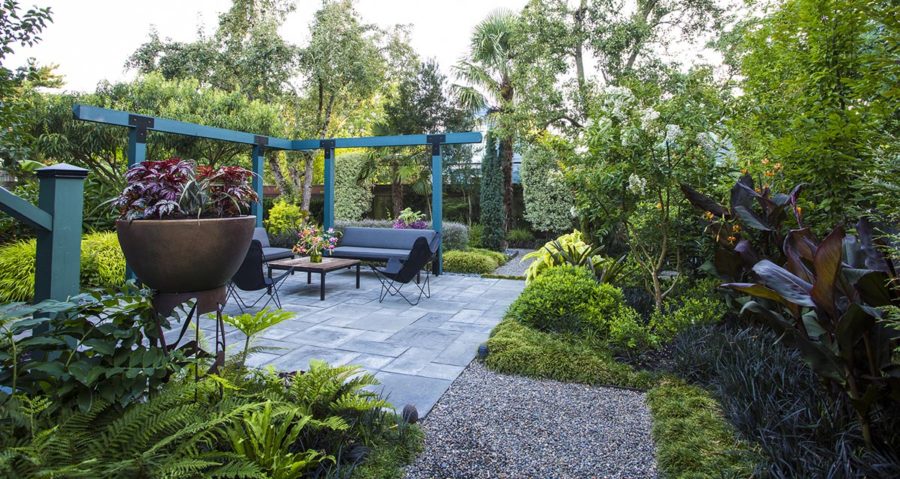 ARTICLE BY: LAUREN HALL-BEHRENS
Originally Published in the HPSO Quarterly in Winter 2013
Lauren Hall-Behrens is a HPSO Member, Garden Designer & Owner of Lilyvilla Gardens
***
Hardscape, including paths, patios, arbors, and pergolas, is the solid material underfoot and the architecture overhead that creates the framework and the structure of a garden.
It dictates how we move through and react to a space and establishes an architectural relationship between a garden and the home it surrounds. This structural framework also contains and organizes a garden's plants. A well-designed hardscape can bring an overall sense of order and calm to a garden year-round. Practical, beautiful, well-built hardscapes and structural plantings can both unify plant collections and permit favorite plants to be accentuated.
I am a professional garden designer, so I study gardens wherever I go. When I tour a garden I ask myself questions such as: What is the relationship between the hardscape and the architecture of the home? How is this relationship established? Is the form of the hardscape linked to architectural details of the house? How? Are similar materials used both inside and outside the house? Are there visual cues that lead me through the garden which dictate a certain pace or rhythm? How do I feel in this garden? Why?
When I move from experiencing gardens to designing them, I ask similar questions that reveal the uniqueness of each garden and its owner. I am interested in who you are and how you want to feel in your garden. Are there particular spaces, gardens, artwork or music that inspire you? What are your favorite hardscape materials? What are your favorite plants? What is your site like? Is there great elevation change? Where are the best views? What do you want to emphasize and de-emphasize about your site? What is the architectural style of your home? Are there pre-existing or natural locations for seating and other functional areas? What is your budget for the entire project?
One of my goals in designing gardens is to integrate the home and garden architecturally. The hardscape should relate to the home in some way. Materials, patterns of materials, and the scale and style of the home can be repeated in the garden. For instance, the hardscape that leads to the front door can be paved in a similar stone and pattern to relate to the flooring in the foyer. Dimensions of porches, windows and stairs, when repeated in the landscape, create a relationship of scale and proportion. Hardscape can carry the eye from a picture window into the garden to rest on a focal point such as a piece of artwork, a water feature, or a specimen tree or shrub, further integrating the garden with the home.
Furthermore, it is essential to integrate the garden with your lifestyle. I design gardens for both gardeners and non-gardeners and, while I work quite differently with each, they generally request similar results. Gardeners request cohesion, structure, and relief from the chaos of a collected plant palette. Non-gardeners ask for cohesion, specific use areas, and a general plant style or theme. Nearly all clients of both kinds request low- or lower-maintenance gardens. Hardscape can address all of these issues, providing visual and structural cohesion while also adding low maintenance/high use areas to expand and extend garden use.
While a professional garden designer brings valuable objectivity, perspective, and experience to the process, there are ways to bring a new perspective to your garden on your own. Study your garden. Try to see the whole picture rather than focusing on the details. Identify beautiful views or aspects and see if you can identify ways to frame them, or lead the eye to them. Likewise, note areas of your garden you would like to use more or less. Think about how you use your garden now and how you would like to use it differently.
To determine the size and form of the use areas of your hardscape ask yourself questions: Do you want to cook and/or dine outdoors? How many people do you tend to entertain? Consider patios for different uses. If possible, the dining patio should be easily accessible from the kitchen. A space for relaxing by a fire could be adjacent to the dining patio. To create different feelings or moods in spaces consider changing the hardscape materials underfoot. A mortar-set stone patio feels more formal and is more level for tables and chairs. Sand-set paving (natural stone or man-made pavers) in a "squares and rectangles" pattern is a close second in formality and evenness of surface. I refer to a "breakaway" as a point in the garden where the feeling or mood changes, in some cases from formal to casual. For instance, a dining patio in mortar-set bluestone could "breakaway" to bluestone pavers set in a loose rock pathway.
How do you maintain your garden? Do you use tarps to haul your yard debris to the compost? If so, I suggest a four-foot wide pathway. Do you use a lawn mower? Where do you store it? A three-foot pathway is the minimum for moving wheelbarrows and lawn mowers. Do you need an access path to a deeply planted area of the garden? A small two-foot wide access path integrated with the hardscape adds interest, detail and function to the overall hardscape design.
Finally, while technically not hardscape, structural plants, usually evergreens with strong, interesting shapes, can function in much the same way to introduce architecture, order, and visual cohesion to the garden. Take note of your favorite plants or collections of plants. Planting structural plants around and amongst your collected plants provides contrast in form and a sense of order or framework for your collections. Repetition of these structural plants creates rhythm and adds cohesion to what may otherwise be a disparate group of plants. Placing special collections of plants close to pathways heightens their impact.
Some of my favorite evergreen structural plants for small to mid-size gardens:

Taxus 'Bean Pole' and other cultivars
Buxus various cultivars
Ilex 'Dwarf Pagoda'
Cupressus 'Totem'
Osmanthus 'Rotundifolius'
Pittosporum 'Wheeler's Dwarf'
Pittosporum 'County Park Dwarf'
Pieris 'Cavatine'
Vaccinium moupinense
Rhamnus 'Variegata'
Azara microphylla
To continue your education of hardscape design, visit as many gardens, plazas, museums, stone yards and building centers as you can. Look at the entire space and then the details that make up the space. Identify what you like and why. Buy samples of materials and bring them home to your garden. Look at them wet and dry. However, try to limit the number of materials you introduce into your garden. They should relate to one another and not overpower the rest of the garden. Hardscape and plantings should feel balanced. Exceptional gardens are those that fit the context of the existing architecture and site, function effortlessly, possess a unique atmosphere that impacts us emotionally and are capable of making our lives more fulfilling.
GROW WITH US
Join one of the West Coast's largest gardening communities and meet other gardeners who share your passion.