**Please note: The photos from this garden visit were taken by HPSO member Hayden Brown in February 2020, prior to COVID-19 restrictions. For more information on Northwest Garden Nursery's restrictions due to the pandemic, visit their website at https://northwestgardennursery.com
No matter what 2021 brings, we can count on our gardens to be there for us. Beyond the confines of our homes, nature's cycles of death and regeneration continues. The seasons change, flowers bloom and fade, and our gardens need our attention.
Personally, nothing gets me through this isolating, post-holiday slump better than the anticipation of a new gardening season. Most of our gardens are neatly mulched and tucked away for winter, waiting for the warmer days of spring to arrive.
But at Northwest Garden Nursery in Eugene, Oregon, Marietta & Ernie O'Byrne's garden is bursting with color even in the middle of January. Hundreds of winter-blooming hellebores adorn their garden and nursery, showcasing their expertise in breeding new hellebore varieties.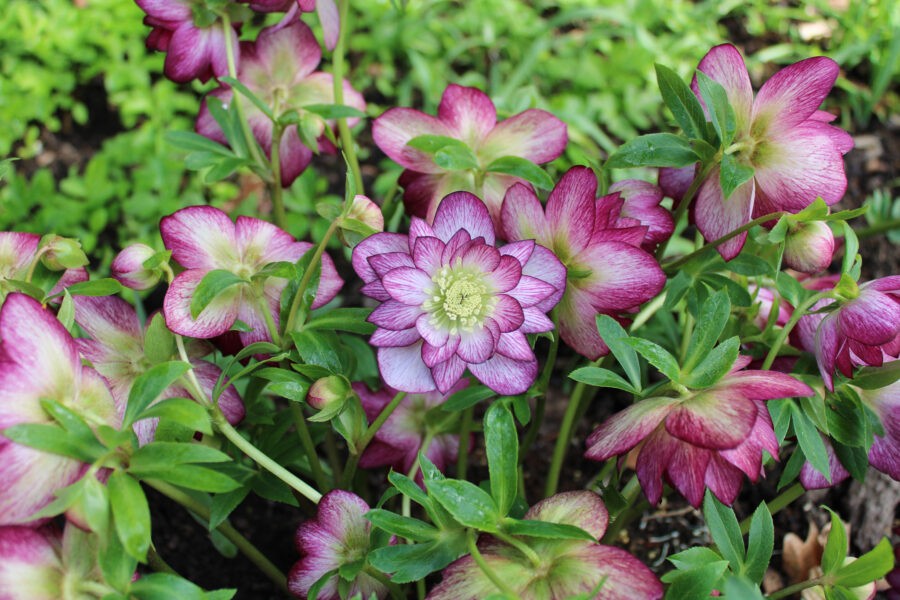 Just when we need them most, hellebores fill our winter garden with moody purples, dusky greens, peachy pinks and bright whites and I look forward to their delicate blooms all year long.
Not only do hellebores make a beautiful landscape plant, but they make great cut flowers too. To make them last longer in the vase, it's recommended that you harvest mature flowers that are beginning to produce seed pods after dropping their stamens.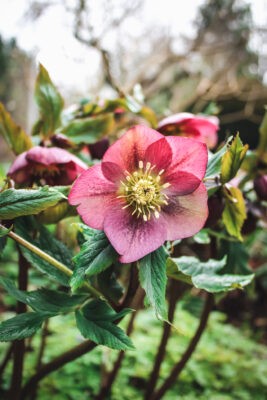 Last year, I was lucky enough to make the trip to Marietta & Ernie O'Byrne's Northwest Garden Nursery in Eugene, Oregon, for their Hellebore Open Garden Day. They open their garden and nursery in February for onsite sales, with some select retail locations offering some of their products. (Visit their website to review the precautions required for the 2021 Open Garden Days due to the pandemic)
During the plant sale, the O'Byrnes graciously opened their garden for tours, as well, so after snagging 5 precious new hellebore plants, my husband and I walked around their garden. Even in February, it was full of botanical treasures and artful plantings.
The O'Byrnes are meticulous plant breeders, creating exquisite new varieties of hellebores, trilliums, podophyllum, and others.
Additionally, their book A Tapestry Garden, documents their journey of transforming their dry, sandy 1.5 acre property into a thriving garden.
I had a phone conversation with Marietta & Ernie to get to know more about their specialty hellebores. The conversation has been edited here for you to get to know them a little better.
I was lucky enough to visit your garden in February before the pandemic and was amazed by all the hundreds of people lining up to buy your hellebores. What is so special about hellebores?
People are hungry for colors in winter. If hellebores were blooming in July or August, it would be harder, but now they don't have any competition. When it's gray in Oregon, you can look out the window and see beautiful yellows and purple colors exploding.
You started breeding hellebores in the early 90's. How long did it take to develop a variety you were really proud of?
If you look back at the old pictures of some of our first hellebores, you would say, "Oh well those aren't that exciting".
But at the time, it was very exciting!
There was very little breeding going on in the States so we traveled to Europe for our seeds and breeding stock.
In the early 2000's, a German breeder traveled here and gave lectures and brought hellebores. She brought over a double flower and it was so exciting because nobody here had ever seen a double. All the breeding happened in England, Germany, Holland, but nothing much here.
Now when I look at that picture of the first double, I realize it was a wimpy plant! But we were able to start making our first crosses with doubles. It was a big jump forward for doubles, and doubles outsell singles.
We brought plants home from our travels to Europe, but we had ideas of what we wanted in our hellebores. We crossed the German ones, we crossed the English ones, because I had an idea.
I wanted a pink double. A plant that didn't exist. It took years and we're still improving our varieties.
Were there any failures when you got started breeding and selling hellebores?
Those first crossings of doubles were ugly in our opinion, but other people loved them! There is often a difference between what we consider beautiful as breeders and what the public likes.
Our 'Golden Sunrise' variety could be considered a failure, but it shouldn't be!
It has beautiful chartreuse, yellow foliage that looks beautiful in the winter garden. We have not been able to convince the wholesalers to buy this one regularly and I think it is because their maintenance crews think the yellow foliage means the plant is unhealthy. They'll have thousands of hellebore plants in the greenhouse and see green, green, green – but then they see the yellow Golden Sunrise foliage and it stands out.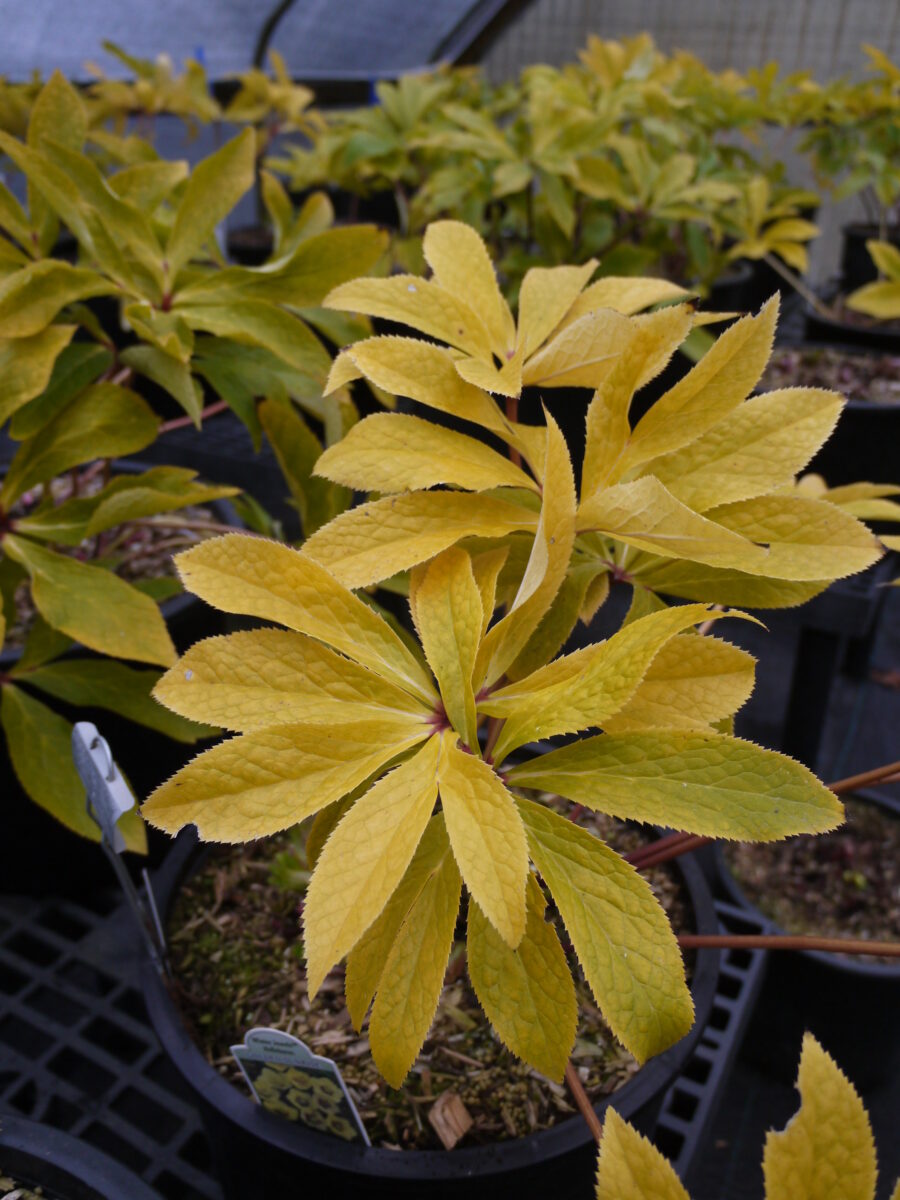 It has a fantastic yellow flower and brilliant yellow foliage. In general, people who come to our nursery love Golden Sunrise, but it's very hard for the wholesalers.
To breed new varieties, you hand pollinate and grow from seed. How long does it take to grow hellebores from seed until they are mature enough to flower?
At the earliest, it takes 2 years for a seedling to flower.
We hand pollinate in January, collect the seeds in May, then sow immediately. The seeds need periods of heat and cold to sprout so it will be 2-3 years before they flower.
It can take 5-6 years from starting a seed to knowing if you have a plant that is worth keeping.
What are the common mistakes for gardeners to avoid when growing hellebores in their gardens?
The biggest mistake is burying plants too deeply. When planting, it's important not to bury the crown of the plant. We are careful when mulching in the garden not to bury the plants in too much compost, otherwise they won't flower very well.
Also, hellebores need good air flow in the garden. If they are crowded in a corner without proper air flow, they are more susceptible to fungus problems.
How do you care for hellebores in the garden to get the best blooms?
It's important to remove the old foliage right after Christmas before the flowers come up. The old foliage can be ratty and ugly and will cover up the flowers when they bloom. Make sure you only remove the foliage from hybrid hellebores – the flowers come up separately from the foliage so you won't risk cutting off buds.
They also like fertilizer. We don't use a lot of compost to avoid covering the crown, but when I plant I put two handfuls of a slow release fertilizer in hole with the plant. It's important that it's organic, slow release so it doesn't burn the plant!
Then I apply a side dressing of fertilizer throughout the year, such as fish fertilizer.
Hellebores grow well in semi-shade but can grow in full sun if you give them extra care. If the plants dry out too much, the foliage starts to look ugly.
How do you use hellebores in your landscaping? What plants do you pair them with?
One of my favorite combinations is a black flowering hellebore with Japanese Forest Grass 'All Gold'. The black flowers really stand out against the bright yellow grass. I try to contrast light and dark flowers against other plants. The white hellebores look beautiful against evergreen grasses such as black mondo grass.
When you look out the window in the middle of winter, the bright yellow hellebores stand out in the shade so I often plant them around the base of trees.
I have a group of pink hellebore varieties planted around a camellia that blooms at the same time and has pink flowers. I love the combination.
Sometimes hellebores can self-seed and take over the garden quickly. How do you handle this?
It's really important to prevent seedlings from crowding out your parent plants. Bees love hellebores and will pollinate them freely but they are not good plant breeders. If left to the bees, the flowers from any seedlings will be a muddy mix of colors and will not look like the parent plant.
It's easy to prevent this from happening by removing all of the flowers in late April or early May before they drop their seeds. You will see the swollen seed pods and you must remove them before they burst open and spread the seeds.
If we didn't do this our garden would be full of thousands and thousands of ugly hellebores!
You grow so many beautiful varieties! Do you have a favorite?
I knew you were going to ask this and it's such a hard question to answer!
'Fire and Ice' is one of our newer varieties. It's an early bloomer, vigorous and healthy and makes a great garden plant. Another favorite is 'Sun Flare' – it has yellow flowers edged in red.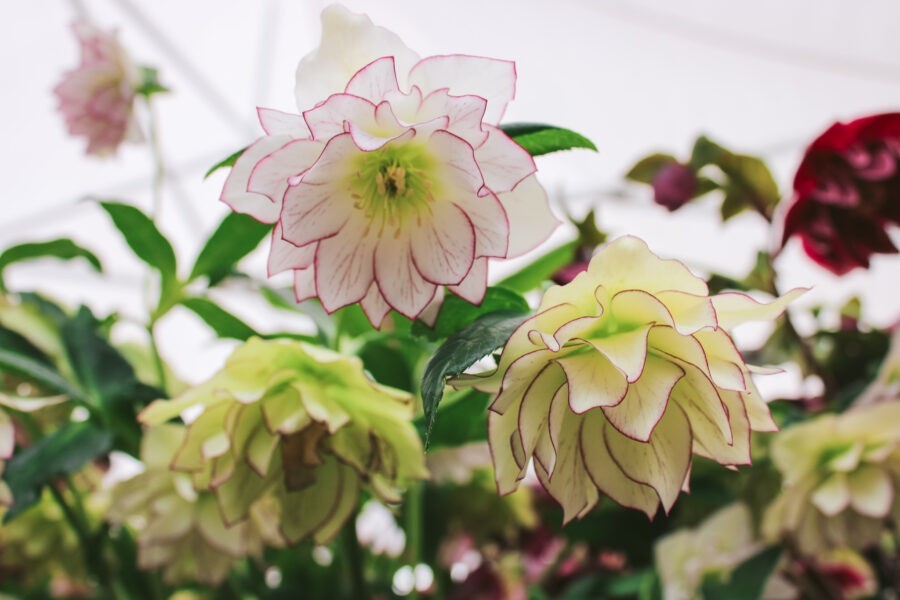 Are you currently working on any varieties that you're really excited about?
Yes, we are constantly working on improving each strain. We select the best plants of each variety to constantly improve them. I don't like muddy colors – I like clear, pure flowers.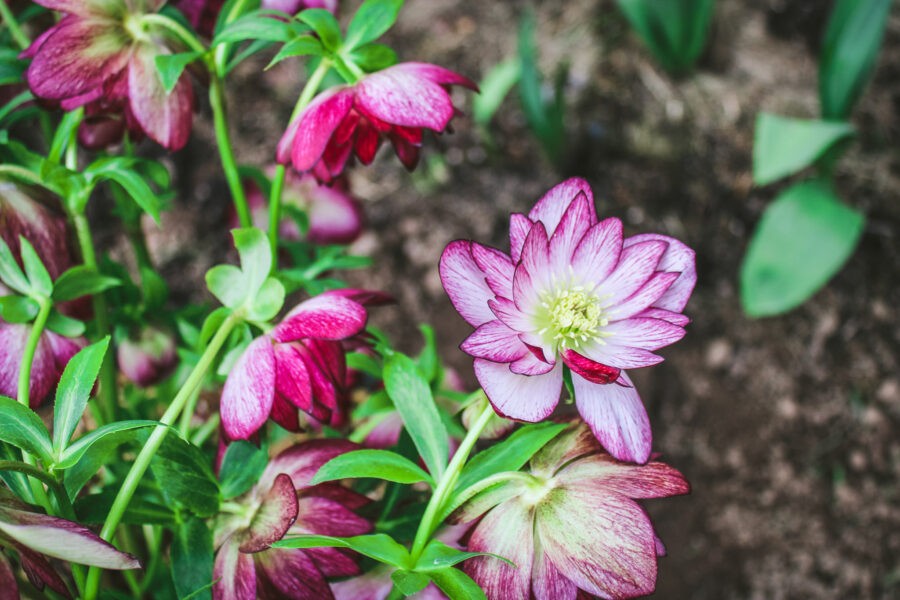 Another variety we are working on has very small flowers but beautiful, narrow-leaved foliage. Generally hellebore leaves are large but this one is very different than anything else.
You usually have a couple onsite retail events in February for the public to purchase hellebores. How will the Open Garden Days operate differently this year due to the pandemic?
We are partnering with Gossler Farms Nursery so people can purchase from two different locations. We won't have any extra parking this year to limit the number of people shopping at a time.
Also, instead of limiting sales to a small window, we're opening the nursery for extra time to prevent large groups of shoppers.
(For more information regarding their onsite sales, visit this page on their website)
Are there any other retail locations where people can purchase your hellebores?
Yes, our hellebores are easy to find at lots of different nurseries. Simply call and ask if they carry our Winter Jewels Hellebores.
Thank you so much for sharing your knowledge with the Hardy Plant Society, Marietta!
***
Hellebores are just one of the plants that get us through dark, wet winter days. 
Readers, what flowers do you look forward to most this time of year? Do you have any favorite varieties?
2020 was a tough year for us all. How did your garden boost your spirits through the ongoing pandemic? Please share in the comments below!
GROW WITH US
Join one of the West Coast's largest gardening communities and meet other gardeners who share your passion.