Bill Thomas of Chanticleer, a pleasure garden, tells us a little about his inspiration.

How did you become interested in gardening?
When I was ten, my parents said I should take over the vegetable garden. I loved growing the plants from seed and soon even began eating vegetables.
What would you tell a beginner gardener?
Learn the rules and then break them as you wish.
Favorite tool?
Felco number 2. I love to prune and it does the job well.
What would you tell your younger gardening self?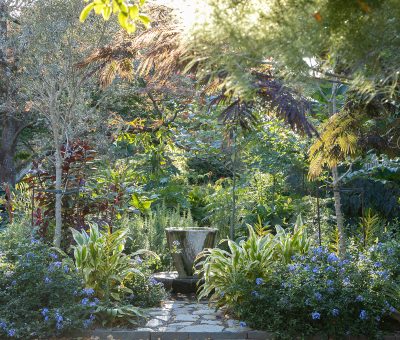 Learn more, try more, and be less opinionated.
Favorite garden book or garden writer?
Portrait of a Marriage: V. Sackville-West and Harold Nicolson by Nigel Nicolson. It shows how two strong-minded people could build a garden together.
Favorite season in the garden?
The current season. How can you not love today and the anticipation for tomorrow? That's what keeps us gardeners going.
Bill arrived at the 50-acre pleasure garden Chanticleer on April Fools' Day, 2003. Previously, he was at Longwood Gardens for 26 years, the last five in Research and Production and the prior 21 in Education. Bill leads the talented and creative Chanticleer staff in its continued development of the young garden, now in its 30th year. He emphasizes an environmentally sensitive and multi-century approach to the property and is unifying the former estate into one cohesive garden. The staff and he co-authored The Art of Gardening (Timber Press), recipient of the American Horticultural Society (AHS) Book Award. Bill holds a B.S. and an M.S. in Ornamental Horticulture from the University of Wisconsin-Madison. He received the Scott Medal and Award in 2017 and the AHS Professional Award in 2016.
All photos are courtesy of Chanticleer, a pleasure garden
GROW WITH US
Join one of the West Coast's largest gardening communities and meet other gardeners who share your passion.