Meet Darcy Daniels, garden designer and creator of eGardenGo, a resource she created to help gardeners easily choose beautiful plant combinations to reflect their personal style.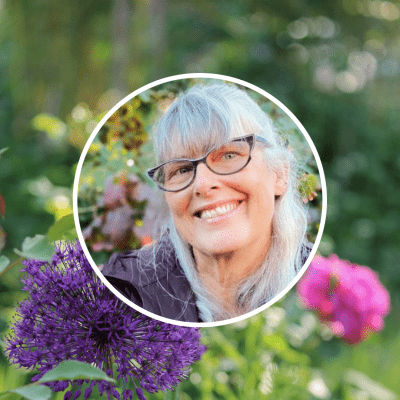 Darcy gardens in NE Portland, USDA Zone 8b, and we are excited to feature her profile on the HPSO blog so we can all get to know her better! 
How did I become involved in gardening professionally?
I'd always loved plants when I was growing up, but it wasn't until I bought a house in 1998 that things changed. The house is a small bungalow, and when I moved in, it had no garden to speak of – just juniper bushes and a small Japanese maple in front. Pretty much everything else was grass. I decided to take out the juniper bushes, and then I got bitten by the gardening bug big time. Pretty soon, people were asking me to help them with their gardens, and it didn't take long after that for me to realize that this was the work I would do.
After about fifteen years of designing gardens, it occurred to me that there was a way for me to help lots more gardeners – and not just beginners – and eGardenGo was born. Anyone can go to the site and get lots of ideas for great plant combinations and even download planting plans. The site really grew out of a desire to transition from one-to-one assistance to one-to-many.
I see eGardenGo as my ongoing legacy project. It's a repository and workshop for my current thinking about gardens and planting design.
Which garden has most influenced me?
I can't name just one. I see new ones every year, and love seeing how old favorites change and develop. There's no question, though, that I'm deeply indebted to the many, many gardeners who have shared their gardens via tours and open gardens. Seeing the broad range of possibilities was empowering as I created my own and remains a key source of inspiration.
I will say that way early on, some of the most important influences for me weren't really gardens, but the books and references that I was poring over as I approached this new passion. I was greatly influenced by references that emphasized creating a garden that looks good year-round and that does no harm – organic and pesticide-free all the way!
Which garden would I most like to visit?
Again, I can't name just one! I'd love to return to Chanticleer, which I was lucky enough to visit in 2008. There are lots of familiar-to-me gardens in the US that I haven't had the opportunity to visit yet that I'd like to. For example, Lotusland and the Ruth Bancroft Garden, to name just two.
What's my favorite gardening resource?
Well, I have to say that I depend a lot on the generosity of the many passionate and knowledgeable garden-makers, skilled horticulturists, and nursery-folk out there. There's just so much to know and learn, and it's wonderful to be part of a community that wants to share the wealth of knowledge. But if I had to name a couple, I'd say PlantLust.com is great – I like to read high-quality descriptions from multiple sources, all in the same place. And of course, Great Plant Picks, where you know the plants are vetted by specialists in Pacific NW gardening.
What most influenced me in my decision to start gardening?
As I mentioned above, I'm thankful that I chose the early references and resources that I did, as they were formative for me. One garden design author in particular, John Brookes, really helped shape my thinking about space and proportion when planning garden layouts.
Locally, Joanne Fuller was really important, because she's the one who brought me into the HPSO fold and was instrumental in plugging me into the local garden scene, where I've met a lot of inspiring gardeners who've had a significant influence on me. For example, Lucy Hardiman really helped me find my voice as a gardener – a writing workshop I took with her and C. Colston Burrell on the coast years ago helped get me comfortable in putting my thoughts out there in written form. Really, when I think about it, that's part of what made it possible for me to conceive of eGardenGo and bring it to fruition.
Who would I most like to hear talk on gardening?
I'm not sure I have anyone specific to name. But I look for voices that test limits, question the status quo. I think we're all struggling right now with how to garden in a world where the climate is changing so rapidly, and so I look for people who offer clues about where to go from here in garden-making, or who explore how to create beautiful gardens that are actively good for the environment while still serving as meaningful, functional spaces for people to live in.
My advice for new gardeners:
I feel a bit like a broken record on this, but I often find that people new to gardening can get really stressed out about it. They worry that if it's not perfect right away, then they've failed. So I try to get folks to see it as a process, and that there's not necessarily an end state where the garden will be "done." I encourage them not to take it too seriously – to stop stressing, focus on the fun and excitement, and enjoy the ride. The rest will follow. Of course you're going to make "mistakes", so-called, and that's okay. It's also okay to remove or replace plants that aren't working or that you no longer like – and that those might change over time.
If they've discovered a passion for it, I always encourage them to find mentors, to connect with the larger garden community – like HPSO.
What's a gardening movement that I can't abide?
I'm not crazy about the native-only approach. It's indisputable that native plants provide really important contributions to the habitat, but I think a "climate-adapted" focus is both more flexible in terms of creating beautiful/functional gardens, and also more realistic, given how fast our regional climates are changing.
For example, I get inquiries and requests from homeowners all the time for native plant gardens, because they think it's going to be low-maintenance and low-water. But that's not necessarily the case at all. Plus, creating beautiful, livable outdoor spaces is why people contact me. Creating a four-season garden composed of a range of climate-adapted plants is what I've come to believe that they're really asking for.
I feel that the message should focus on helping people to select plants and to create gardens that are actively additive vs. draining resources: that don't suck up water, that can help sequester CO2, provide nectar and food for critters, and so on. For me, "right plant, right place" reigns.
A plant I wish I never planted:
The soil in my parking strip is very free-draining and loose. So much so that colonizing plants like Lobelia tupa and Phygelius turned out to be way too rambunctious for me. Luckily, I caught them soon enough and was able to ultimately eradicate them. These are perfectly good plants that many people enjoy growing, but they were too aggressive for my small plot.
Similarly Lobelia laxiflora, which is currently colonizing under a shallow-rooted Magnolia stellata in my front garden. Because of its location, it is really hard to eradicate without damaging the tree. So it limps along and I pull it when I see it.
Genus or group of plants that I am newly excited about:
At different times I've gone down the rabbit hole with various genera. For example, I've gone through periods of collecting all the Saxifraga I could find and more recently, the same with ferns. More ferns!
Nowadays, I'm trying to expand my understanding of no-water, low-water, low-maintenance plants. and getting better at selecting and cultivating communities of plants that provide positive impact on the eco-system and habitat for stressed fauna.
Favorite foliage combination:
Another tough question, especially for me. I literally built a website with hundreds of plant combinations (with more being added) … that's what eGardenGo is for, really. And when it comes to design, it's often less about plant A plus plant B, and more about combining plants like this with plants like that.
There are the ecological considerations I mentioned above, but beauty matters too: a pleasing environment is good for our health and happiness. Then there are the design considerations – trying to balance enough repetition to build a cohesive scene with enough diversity to keep the end result engaging, fun, and dynamic.
In general, I like plants that share space, in order to create a layered garden. I also like clever progressions that share patches of ground, so that the same spot will change through the year as different plants that coexist come into season.
Thanks so much for sharing, Darcy!
Additionally, you can learn more about Darcy's work on her websites: www.egardengo.com and www.bloomtowngraphics.com, plus her Instagram: @eGardenGo_app and @BloomtownGraphics
GROW WITH US
Join one of the West Coast's largest gardening communities and meet other gardeners who share your passion.