What do you get when a meticulous gardener with an eye for color teams up with a master craftsman? A truly one of a kind, unique garden bursting with personality.
Mary and Harlan Courtney started gardening on their property in 2015 and as they gave a tour during their HPSO Open Garden day in August 2021, their excitement and love for the garden was obvious. Perched in the hills in Banks, Oregon, stunning views of the forest surround Mary and Harlan's gorgeous garden full of fun.
The Garden Layout & Design
You won't find straight lines in the garden – everything from paths to raised beds wind and curve. This flow makes the garden feel much bigger than it actually is because there's always something new to see around the corner.
In addition, the garden is designed with several seating areas situated to take in the best views of the surrounding valley. Situated on the hills leading up to the Coast Range, the garden looks out on forests and farmland.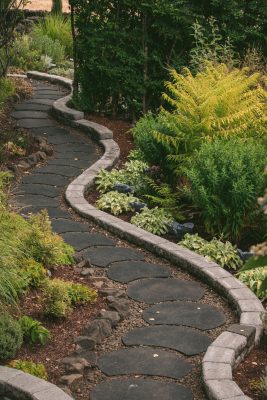 The Planting
Mary's skill in plant choice and design blends harmoniously with Harlan's creative garden art. Ornamental grasses dominated in late August, their seed heads waving in the wind and complementing the surrounding farmland and fields. Instead of feeling out of place, the naturalistic design fits in perfectly in the countryside.
While much of the garden is dedicated to ornamentals, there are spaces for vegetables, herbs, and cut flowers. The terracing ensures that even on a steep slope, it's easy to reach into beds to harvest and weed.
The cutting garden is filled with joyful colors. Cosmos, zinnias, celosia and more fill the beds and spill over the paths. Perennials dominate most of the garden, but this dedicated cut flower garden allows Mary to test out new annuals every year.
Art & Hardscaping
The garden surrounds Mary and Harlan's home but is fairly sloped, so terraced paths make strolling easier. But this garden is much more than the plants! Harlan is a skilled artist and metalworker and the garden is filled with his creations. From corten steel raised beds, stone gabions, and even a galloping horse made of reclaimed pipe, there are whimsical surprises around every corner.
Come for a tour of the garden and you may end up in Harlan's workshop, a treasure trove of reclaimed materials ready to be turned into incredible art!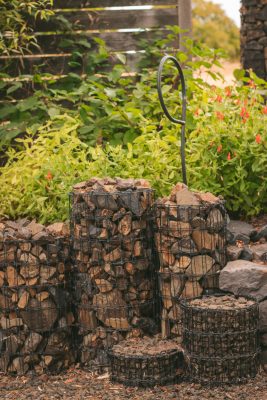 The planting style softens the metalwork throughout the garden so nothing feels out of place. The Courtney's have managed to create a beautifully modern, cutting edge garden that still feels welcoming and  down-to-earth.
Thanks, Mary & Harlan, for the tour of your stunning garden!
Visiting the Garden
The Courtneys open their garden to HPSO Members on select dates throughout the year. Please login to the Open Garden Directory to plan your next visit! Additionally, HPSO Members can read a full article in the Quarterly Magazine written by Mary and Harlan to explore their garden further. Look for it in an upcoming issue!
Garden photography and blog post provided by HPSO member Hayden Brown
GROW WITH US
Join one of the West Coast's largest gardening communities and meet other gardeners who share your passion.