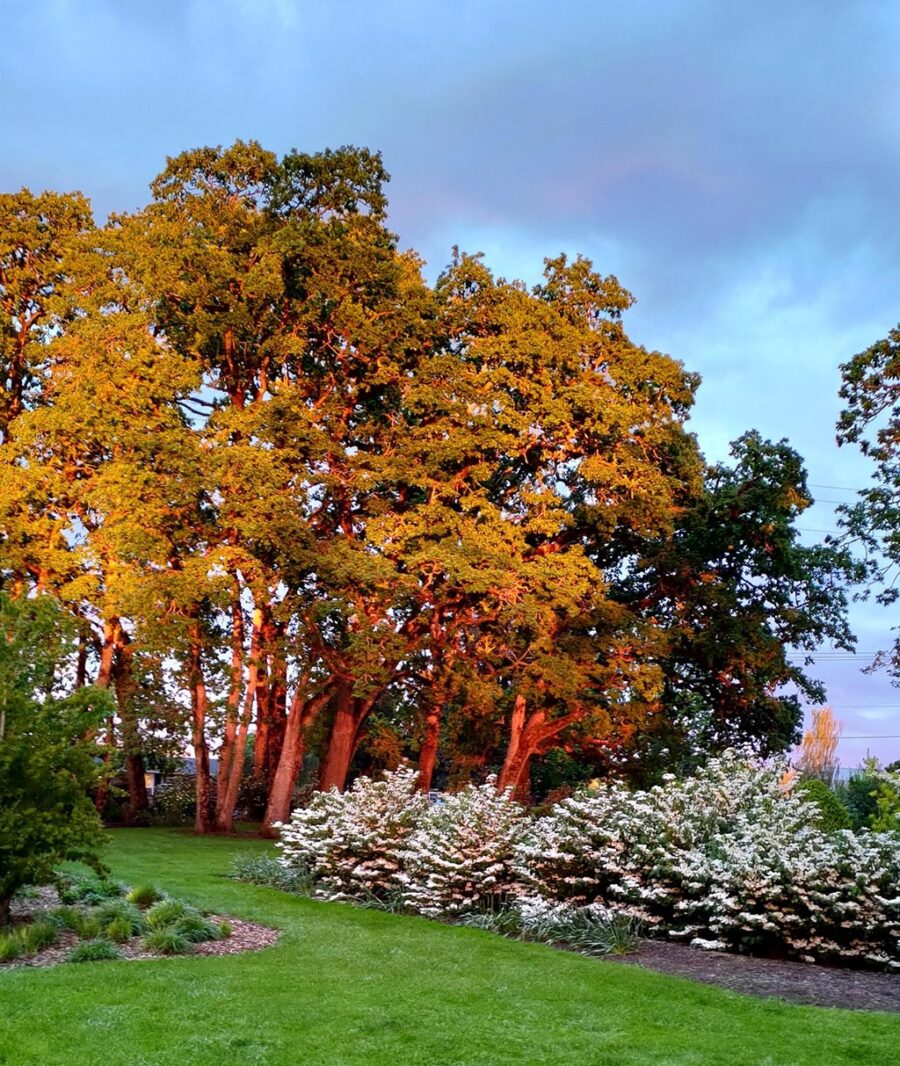 As part of Virtual Hortlandia 2020, we're doing a series of interviews with participating nurseries so that you can learn more about them and the folks behind them.
This week Joanne Fuller, co-chair of the Hortlandia Planning Committee, talked with Carol Westergreen at Out in the Garden Nursery in Molalla, OR and edited the conversation for this article.
Carol, what are some of your favorite plants?
That is like asking someone to name their favorite child or dog. I like both sun and shade plants. I love ornamental grasses, particularly Calamagrostis. We grow 5 or 6 varieties–easy and attractive for a long season, I think they look as beautiful in winter as they do in summer. I love bold foliage and shade gardening which is all about texture, shape and contrasting forms not showy flowers. I grow Aralia cordata 'Sun King'– it gets huge with bold golden architecture. It looks great with big blue hostas. It comes up late, so I have to remember where it is in the garden and not plant over it. Other shade plants I love include Ligularia dentata 'BBQ Banana'. It is more vigorous than many Ligularias. It comes up with darker chocolate-purple leaves and holds the darkness in the leaves longer than L. dentata 'Britt-Marie Crawford' and L. dentata 'Othello'. I also prefer Ligularia 'Little Rocket' to L. 'Rocket'. The foliage is more deeply serrated, and it's dark stems create a nice contrast to the flowers.
How did you get started with Out in the Garden?
I have been growing plants since I was a little kid. Seventeen years ago, last week, my husband and I were living in Portland and decided we wanted to be in the country. We sold our home, bought this property and started building the garden and nursery. He told me 'we are going to be married to this place'. It's been hard work and wonderful.
What plants are looking good at the nursery right now?
We have a Viburnum mariesii hedge that is in full glory right now. We have a large selection of ornamental grasses and companions for sun including Molina, Pennisetum, Schizachyrium, Caryopteris, Rudbeckia and more.. A lot of these plants are summer bloomers with fall interest. There are a couple of Carex looking very good right now– Carex 'Feather Falls' and C. 'Ribbon Falls'. Feather Falls is variegated and Ribbon Falls has dark shiny leaves. Both of them will take part shade and create a cascading effect as container plants. Related to the Ligularias, Farfugium 'Wavy Gravy' has short dense leaves, some rounded, some pointed that create an interesting mound. The leaves are mostly evergreen for many Portland gardeners, and I love it as a container plant. The brunneras are very good this year. The Autumn Fern (Dryopteris erythrosora) color is outstanding– with the orange new growth, you see why they call it the autumn fern. We grow Podophyllum 'Spotty Dotty' which is flowering right now with its dusky red flowers and spots all over.
What is your philosophy?
We knew when we set up the nursery out in the country that it was going to have to be a destination, an experience. We hope we have created that for people. This is our home and we are sharing a very personal experience with our visitors. People can play with the goats and chickens, they wander around all the gardens including our personal ones, sit on benches and relax as well as browse the nursery.
We grow great gardens one plant at a time. We want people to be successful with the plants they purchase. Sometimes customers want to buy plants that are not right for their growing conditions– we talk them out of those sales because we want to sell people plants that will work for their gardens.
What about visiting right now?
We don't mail order plants, so visiting us is the only way to buy our plants right now. We have one big greenhouse with the shade plants and the sun plants outside that greenhouse. There is lots of room in our garden which is planted under native Oregon oaks. People are grateful to have a space to get safely out of the house. We are getting a lot of visitors from our area who have never come before. That part is nice. We do everything we can to make it a relaxing experience. People have been really good about stepping out of each other's way and being patient. We have gloves, wipes and supplies for folks to sanitize as needed.
Are you hoping to hold any of your usual summer events?
We are working with nurseries in our area to figure out if we can safely hold scaled back events at some point this year. People should look to our Facebook page for the latest information.
GROW WITH US
Join one of the West Coast's largest gardening communities and meet other gardeners who share your passion.