Preston Pew of Cistus Design Nursery speaks about his inspiration and gives us some advice. Check it out below!
How did you get interested in gardening?
Growing up my family always grew a vegetable garden in Summer. I remember growing my first cherry tomato from seed and all of the wonderful red tomatoes it gave and how that gigantic plant grew from a tiny seed really made an impre
ssion on me. Aside from my love of hiking around the Cascades growing up near Mt. Rainier, and being in nature in general, I had no interest in gardening until I was living in Seattle in my early 20's and a friend of mine was a master gardener and showed be his garden. He was growing a mix of ornamental plants and vegetables in a large raised bed he'd built and I became fascinated with plants. I started learning botanical latin and eventually enrolled in
plant identification classes at Edmonds College. I realized I could not stand working in an office full time and got a job at a large retail nursery while I studied Horticulture. After graduating with an applied science degree in ornamental horticulture and landscape design, I worked doing maintenance for a landscape firm in Seattle. In 2010 I joined the Horticulture staff at University of Washington where I worked as a Horticulturist in the Pacific Connections Garden, an eco-geographic themed garden representing five temperate regions. Working in this garden exposed me to many species native to the west coast. I learned so much about growing native plants and that the breadth of plants we are able to grow in our region is rarely matched anywhere else. I fell in love with manzanitas (Arctostaphylos species). Uniquely adapted to our climate, I feel Arctostaphylos is an iconic plant that deserves a place in every western garden.
What type of garden do you have?
Our garden is part learning laboratory, part show garden, and also a source for propagation for the nursery. Our home garden we call Rancho Cistus comprises seven parts, the rock garden (desert island bed) that is in the drive; mainly summer monsoonal or periodic drought plants, the Chaparral garden at the front with a mix of western natives and other mediterranean climate plants, the Crevice garden; constructed i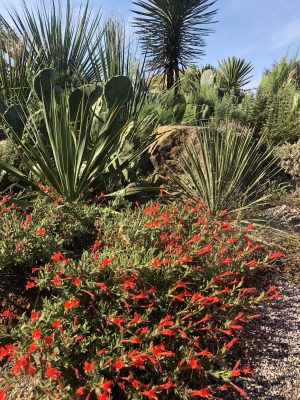 n 2022 divided into different eco-geographic areas (for plants that need excellent drainage and cool soil), the Meadow garden where we grow a mix of large scale grasses and bold textured perennials, the Wedding Walk, where we grow summer rainfall plants like Camellias, Mahonia, Pittosporum, and Hydrangea to name a few. The Terrace garden is an event space that connects the back of the house to the meadow garden and features palms and other bold textured plants and many container specimens. The Figgery is an area where we have a collection of 20+ fig cultivars and a collection of Oak and other woody species. We aim for no bare ground as we love to fill every place we can with plants and open spaces are just places where weeds can pop up. Rancho Cistus is a diverse garden that showcases what can be grown in our climate with various amounts of summer irrigation and that has something to enjoy any day of the year.
Favorite garden book/writer?
My current favorite garden book is Planting Design For Dry Gardens by Olivier Filippi. This book is a wealth of knowledge on gardening with mediterranean climate plants in a mediterranean climate, covering plant selection, hydro-zoning, establishment and watering in dry summer climates.
Advice I would tell a beginning gardener.
My advice to a beginning gardener would be to learn the climate you are grading in. Learn about where the plants you are growing come from, this gives so many keys to cultivation of a given plant. Another piece of advice is to not be afraid to make mistakes, try things out, but don't feel like you've failed if something does not work. So many factors can affect plants, some of which you can control and some you cannot. I've lost/killed more plants than I can count in my gardening career and you will kill at least a few. Learn from those losses and don't look back.
All Images Courtesy of Preston Pew
GROW WITH US
Join one of the West Coast's largest gardening communities and meet other gardeners who share your passion.