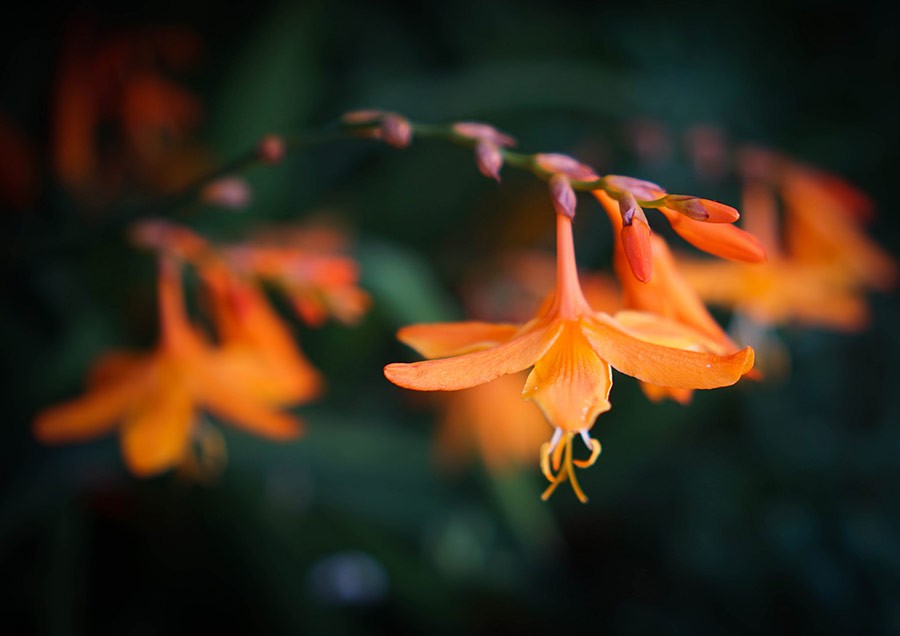 ARTICLE BY: TOM FISCHER
HPSO member, Tom Fischer, is editor-in-chief at Timber Press in Portland, Oregon. A prolific writer as well as an editor, his articles have been featured in magazines such as Garden Design, Gardens Illustrated, and Martha Stewart Living. His book, Perennial Companions: 100 Dazzling Plant Combinations for Every Season, was published by Timber Press in February 2009, followed by The Gardener's Color Palette in 2010. You can read many of his articles on his website, OverPlanted.com.
***
Excessive caution is as great a blight in the garden as powdery mildew or anthracnose. It keeps us from unleashing our most daring, creative impulses for fear that we might have gone too far. The worst thing we can do is to heed the counsels of that maligned muse, Restrained Good Taste. Yield to her, and our gardens will be perfectly presentable, and perfectly, fatally dull.
I can think of no better antidote to caution than the flamboyant tribe of the crocosmias, especially some of the more recent hybrids that offer bigger, brighter, more long-lasting flowers. Whether orange, scarlet, or piercing yellow, they deliver an electric jolt, proclaiming their presence joyfully and unabashedly.
Today's crocosmias are the offspring of species native to the summer-rain areas of South Africa. Members of the iris family, they sprout from small corms that might remind you of their kin, the crocuses. But there the resemblance ends. Crocosmias produce fans of tall, flattened, spear-like leaves, and the flowers are borne in arching cymes or racemes. The individual blossoms are sessile, meaning they are attached directly to the stem. This makes for a highly graceful appearance, as long as the flowers aren't too crowded (a fault of some cultivars).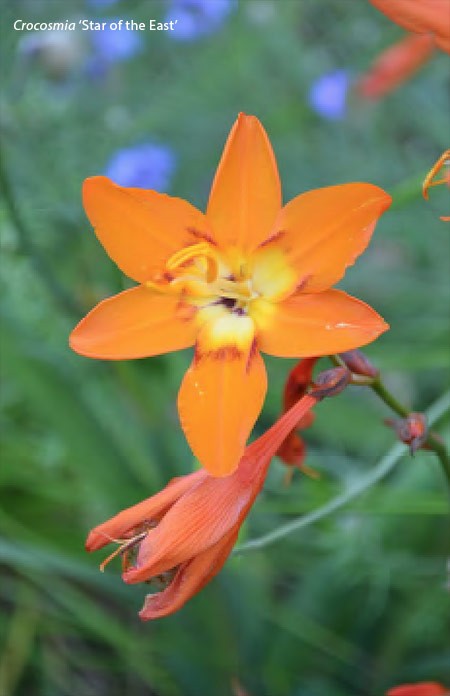 The one crocosmia that everyone seems to know—and that crops up in many a Northwest garden—is the bright scarlet 'Lucifer'. Selected by British nurseryman Alan Bloom back in 1966, it's not a bad plant, but it has a tendency to flop, and its bloom period is early (usually in June) and relatively short. Other "heirloom" crocosmias you may encounter include orange 'Emily McKenzie', yellow 'Jenny Bloom', and apricot 'Solfatare' (the latter of which has bronze leaves). On whole, I've found these plants to have weak constitutions and a tendency to be stingy with their flowers. But I make an exception for 'Star of the East', dating from 1912, because of its enormous, pale-throated, apricot-yellow flowers, which draw the eye even when only one blossom on the spike is open.
You're better off, I think, concentrating on the more modern hybrids, which are of astounding vigor and floriferousness. Rather than planting boring old 'Lucifer', why not try the searingly scarlet 'Hellfire' or 'Lana de Savary'? For oranges, there's 'Fandango' and the super-long-blooming, red-centered 'Bright Eyes'. And among yellows, 'Walberton Yellow' and 'Paul's Best Yellow'. But there are dozens to try. (Far Reaches Farm, in Port Townsend, Washington, has a mouth-watering selection of these newcomers.)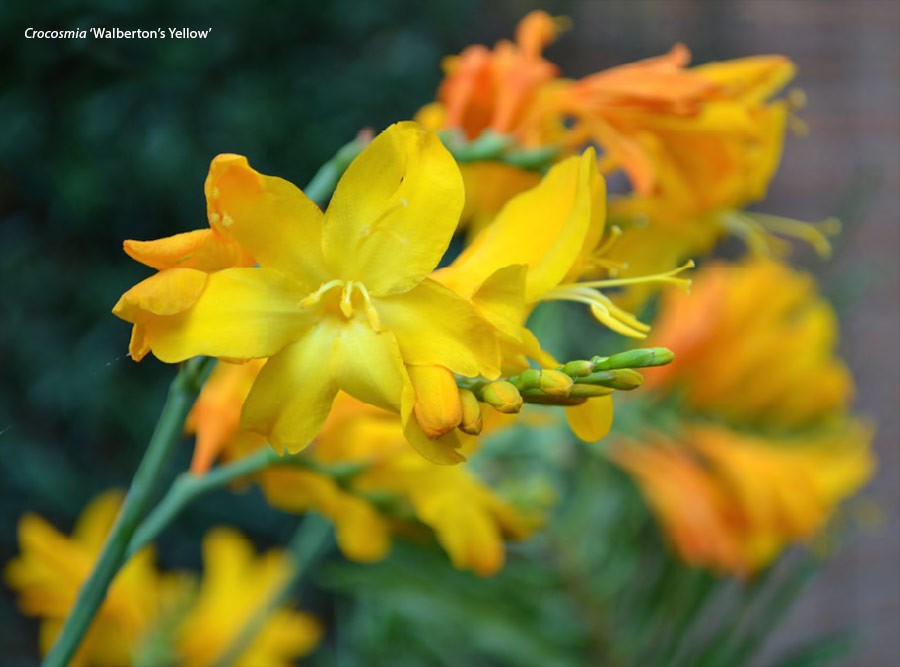 For the best display, give your crocosmias well-drained, rich soil in full sun. A bit of organic fertilizer early in the season won't come amiss. And bear in mind that they'll need supplemental water during the dry months of summer—at least once a week, I'd say. Drought-stressed crocosmias are subject to spider-mite infestation, which can be severe at times. (If they appear, wash them off with the hose.) And don't, for the love of everything holy, be tempted to plant the old primary hybrid Crocosmia × crocosmiiflora, which now infests untold acres along the West Coast. In fact, many, perhaps most crocosmias will increase over time, though not usually to the point of becoming a nuisance. ('Culzean Pink' is an exception—stay away.)
As for border companions, choose anything that goes well with bright, hot colors. In my garden, I've paired 'Hellfire' with the long-lasting chartreuse flowers of Euphorbia 'Dean's Hybrid', and 'Fandango' with the midnight-blue Agapanthus 'Marchants Cobalt Cracker'. But I can envision all sorts of toothsome combinations with purple foliage and boisterous drama queens like dahlias, which can easily match the crocosmias' intensity. Be bold. Be brave. Throw caution to the winds.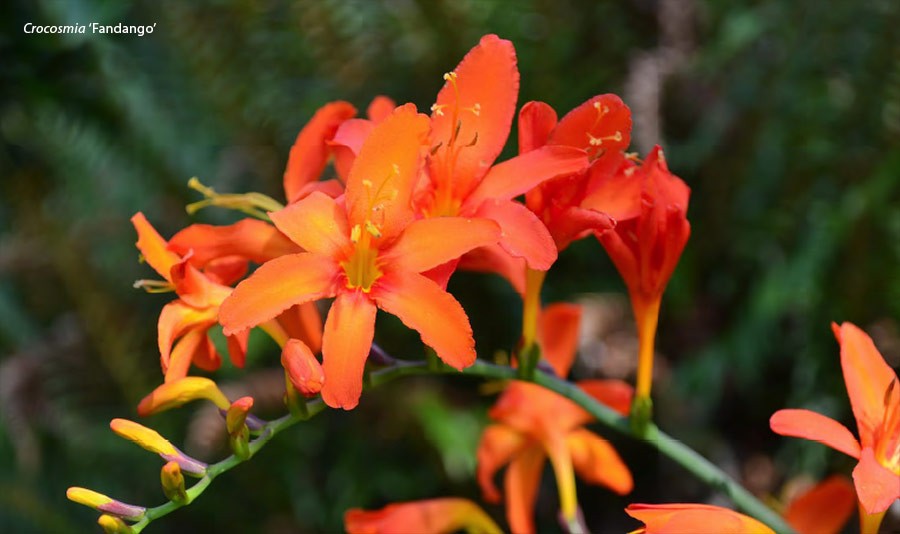 ***
This article first appeared in the HPSO Quarterly Magazine, Summer 2017, a benefit distributed to all members of HPSO. Become a member today to receive the latest copy each quarter!
(Featured photo by Judy Dean on Flickr, all other photos by Tom Fischer)
GROW WITH US
Join one of the West Coast's largest gardening communities and meet other gardeners who share your passion.