ARTICLE BY: JEANNE DEBENEDETTI KEYES
Jeanne DeBenedetti Keyes is a member of the HPSO Board where she is on on the Gen(I)us Series Planning committee.
***
Why do we decide to create a garden? Are we tired of looking at the same, overgrown shrubs that seem to suck precious free time in summer with trimming projects? Do we want to remove invasive plants that just spread seed around, producing millions of little seedlings? Do we want to provide habitat for birds, bees, butterflies and other creatures large and small? Do we need privacy from the street and pedestrian traffic? How about creating a garden that is interesting to look at, possibly easier to maintain? All of the above please!
For many years, my side yard was just that. A yard. An open area on the west side of the house that had some natives I had planted in a garden bed extending north from the native plants out in front of the house in 2004.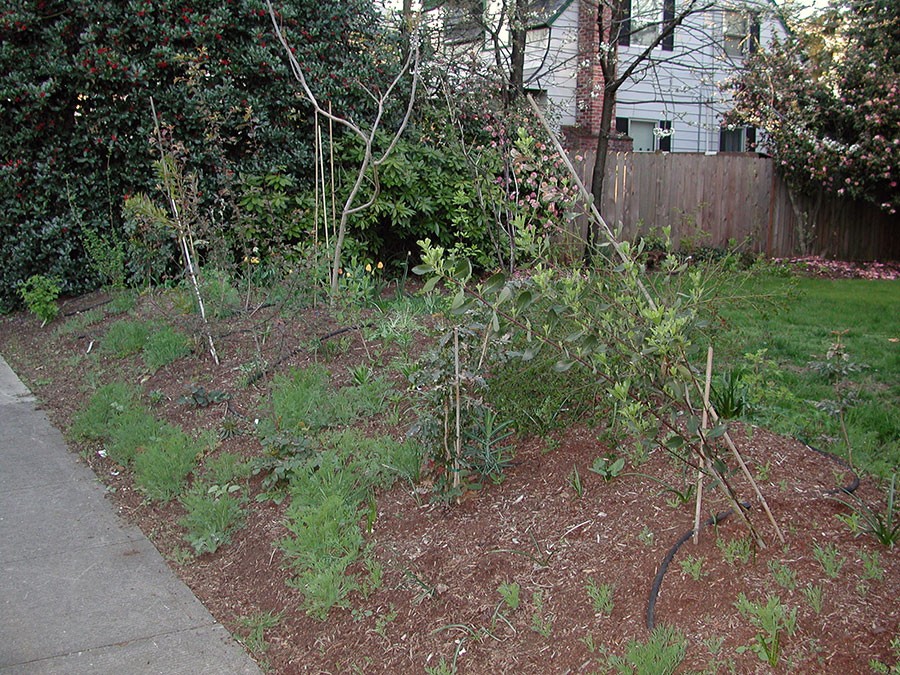 This area included the oil tank which we have since converted to natural gas, along with a few very large and invasive holly trees. On the left of the photo, see the evergreen foliage with red berries of English Holly (Ilex aquifolium). Due to these obstacles, I ignored this area of the garden, to some extent, after the initial planting. Here's another view of the area from the front porch.
But why waste it? Why not create another beautiful area to collect special plants, sit and relax or stroll through, watch wildlife? With the decision to dig a pond, the creative juices started flowing. With a pond, a water source, we could attract wildlife such as frogs, dragon flies, butter flies and other native insects. Now I have enough sunshine and water to grow some of our more interesting native wildflowers such as monkey flower (Mimulus sp.), camas (Camassia sp.), and larkspur. The area out by the street will be a great place to grow the manzanitas (Arctostaphylos sp.) I cannot stop myself from collecting and many favorite shrubs such as flowering currents (Ribes sp.), evergreen huckleberry (Vaccinium ovatum) and ocean spray (Holodiscus discolor).
First, remove the invasive trees. With a call to a local arborist, the trees were removed along with large brush piles I had created as a result of many annual trimming projects. Yea! No more holly seedlings but oh, now I can see the neighbors' sheds and see and hear the traffic out front. The light is so different. Nice sunshine but the exposure is so much more than I had expected and planned on. Quick, cover it back up!
Second, decide what plants to keep and what to remove. PNW natives' snowberry (Symphoricarpos albus) and tall Oregon grape (Mahonia aquifolium) are great natives for screening and providing cover for birds and other small creatures but spread way too much for a small garden. Both plants spread by runner and seed. Without regular maintenance, the snowberry takes over! I do want screening for this area but snowberry produces dense thickets and takes over the design and planting bed.
Next, clear the area of dead and dying woody debris. I am trying to rejuvenate a rhododendron that has suffered under the mature holly.
We'll see if it makes it. It does provide some cover for wildlife and blocks the garden from sidewalk and street traffic.
This photograph shows the cleared area, with some of the pulled snowberry in the foreground. This was taken from the porch.
Lastly, it's time to plant! Assess the availability of sunlight, water and other factors that might affect the growth of the plants. There are two Large Douglas firs to the West, which provide shade from late afternoon sun but sucks up available water. There is a mature, pink Camellia (Camellia japonica) along with mature mock orange (Philadelphia Lewinski), ocean spray (Holodisks discolor), and tall Oregon grape (Mahonia aquifolium) nearby, planted 14 years ago.
I know this photograph is underwhelming and the plants are small, but this time around, I am trying to follow the size requirements listed on the little white tags. I have planted the plants that appreciate more sun such as Arctostaphylos Manzanita, Arctostaphylos 'Rosy Dawn', Ceonothus cuneatus and Ribes speciosum on the south and western side of the bed. Flowering currents, Ribes sanguineum 'Xera's Lime Punch' and 'White Icicle", evergreen huckleberry (Vaccinium ovatum), and trillium (T. ovatum and T. chloropetalum), and yet another Camellia (Camellia 'Yume') on the inside or Eastern side of the bed. I will also add other favorites such as sword fern (Polystichum munitum), maidenhair fern (Adiantum sp.) and fawn lilies (Erythronium sp.).
Although this list of "heavy hitters" are mainly spring bloomers, I will also be looking for small perennials that bloom or provide color in the fall or winter to round out the garden for all year interest.
GROW WITH US
Join one of the West Coast's largest gardening communities and meet other gardeners who share your passion.