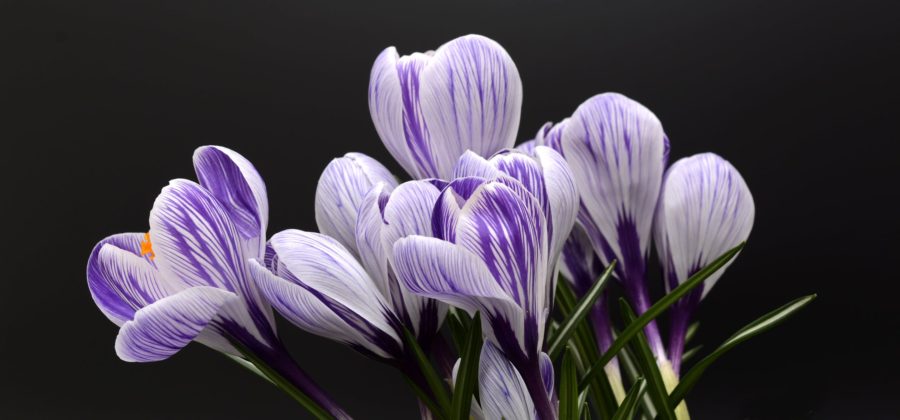 ARTICLE BY: TOM FISCHER
Tom Fischer is an HPSO member, a garden writer, and editor-in-chief at Timber Press in Portland, Oregon.
***
Don't get me wrong—I have nothing against the fat, hybrid Dutch crocuses that pop up in mid-spring, brightening lawns and borders with their cheerful cups of silky violet, vivid lavender, or egg-yolk yellow. But my heart belongs to their wild, more delicate kindred, which can begin blooming as early as January and really hit their stride in February, just when we desperately need a dose of color. I've been experimenting with these gems for over a decade, and have yet to encounter one that failed to charm.
The most protean—and the easiest to find in catalogs—are the many forms of Crocus chrysanthus, which occurs in the wild throughout the eastern Mediterranean. Although chrysanthus means golden-flowered, there are cultivars in every possible variation of yellow, white, and lavender. Personally, I lean toward the pastels, such as 'Cream Beauty' and 'Blue Pearl' (I grow an exquisitely pale form called 'Blue Dream'), but I can't deny the appeal of those selections in which the exteriors of the sepals are marked with a contrasting color. In 'Zwanenburg Bronze', the markings are a warm brown against bright yellow, while in 'Prinz Claus' they're dark violet against white.
Crocus sieberi hails from Greece, Macedonia, Albania, and Bulgaria, and has been divided into three subspecies: atticus, nivalis, and sublimis. The selection of subspecies atticus called 'Stunner' is the first crocus to flower in my garden, always appearing before the end of January. A prolific bloomer, it bears mid-violet flowers veined with darker violet. Flowering just a bit later— but every bit as prolific—is 'Bowles' White', which takes only a few years to spread into an extensive carpet.
With its narrow, elongated white petals and sepals, C. malyi is intriguingly different from its more cuplike cousins. But the wow factor with this species is entirely due to its large, golden anthers and feathery red-orange stigma. The selection I grow is called 'Sveti Roc', after the location in the Croatian Velebit mountain range where it was found.
Crocus corsicus (guess where it comes from?) is practically off the charts when it comes to charm. The three inner petals are a pleasant, if not extraordinary violet; the outer sepals, however, bear dark violet zebra stripes against a white background. Even when the flowers are tightly closed, it's a stunner.
If you have a taste for the exquisite, try growing C. abantensis. A peerless jewel from northwestern Turkey, it's the only species I'm familiar with that (in its best forms) approaches a pure, pale blue. Quite ravishing. It's a wee thing, though, so plant it where you can easily see it.
As you may have surmised, many of the species I've described are native to the Mediterranean basin. This works in our favor, because the plants thrive in a winter-wet, summer-dry climate. I grow all my species crocuses in a raised, south-facing bed mulched with crushed quarter-ten stone and they seem to like it—most of them have increased significantly with minimal attention. The only pests I've had to contend with are slugs and cutworms. The former are kept at bay with repeated applications of Sluggo; the latter meet their doom during nocturnal forays with a flashlight and a pair of scissors. Snip! It's disgusting, but effective. Fortunately, our local squirrel population has never developed a taste for crocus corms. I don't know if they're overfed or just plain dumb.
It might be objected that, Oregon winters being what they are, crocuses rarely get to display their full beauty, since they open only during sunny weather. To which I would reply, many of the species are as gorgeous when tightly furled as when open. And when those rare bright days do come around, well, it's as though all of nature is smiling.
***
Note: For more information about species crocuses, consult Crocuses: A Complete Guide to the Genus, by Jānis Rukšāns (Timber Press, 2010), or visit the Alpine Garden Society's Crocus Pages. A good source of some of the rarer species and cultivars is Rare Bulbs Nursery in Latvia (they ship to the U.S.).
All Photos by Tom Fischer
GROW WITH US
Join one of the West Coast's largest gardening communities and meet other gardeners who share your passion.