ARTICLE BY: KATE McMILLAN
Kate McMillan is a HPSO Board member and owner of Cultiverity, a garden design company in Portland. When she's not working on her own or someone else's garden, she's running her web design studio, Outbox Online. She can often be found posting to the HPSO Facebook page, Instagram and Twitter feeds, and coordinating this blog.
***
The story of native plants in our gardens is, oddly, a story of adversity. There's a pervasive idea that somehow a garden of native plants is less beautiful, less interesting, or less elegant because of its regional origins. But that is certainly not the case, especially here in Oregon, and one great example of that is what's happening at Bosky Dell Natives.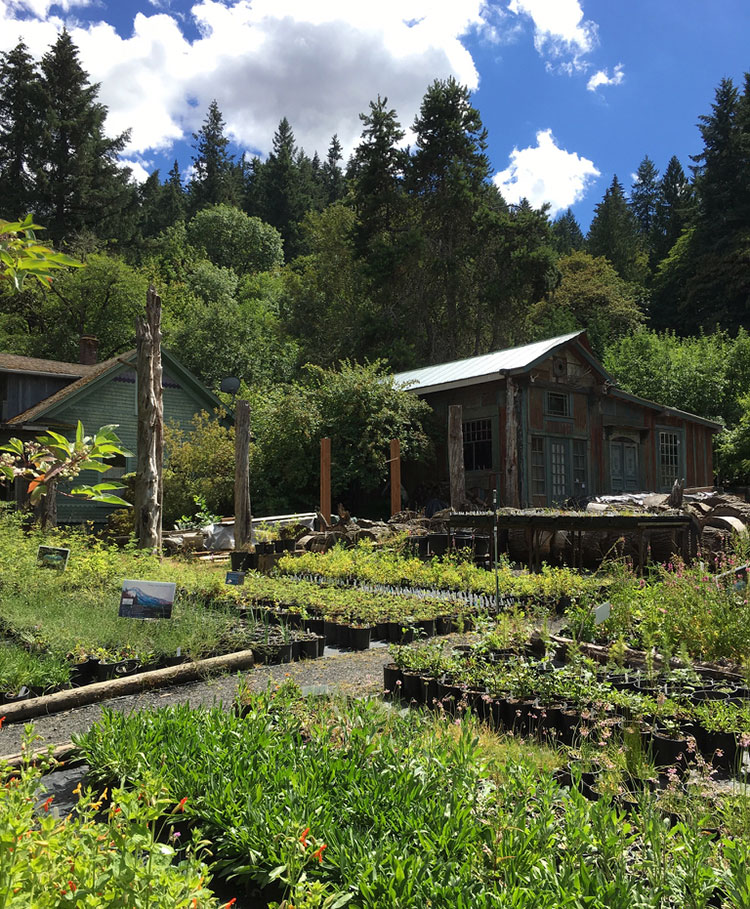 Owner Lory Duralia demonstrates through her nursery grounds, and the gardens she creates for her clients, that our native plants are not only beautiful, but that in spaces small and large, what we do in our gardens can significantly help our local wildlife in a time when their habitat is threatened and climate change ups the ante.
We went along to talk with Lory and to tour the nursery. It is filled with tucked away vignettes, amazing handmade structures, and creative demonstration gardens that show the kind of beauty you can create using our palette of native plants in sun and shade, for areas large and small.
Lory started selling native plants $20-at-a-time at a card table over 30 years ago. Back then, not that many people were searching for plants to help wildlife, but these days when Lory says, "but what about the birds?" more people are listening.
We live in an area of amazing beauty, and part of that are our native plants. Lory shares, "Nothing is more beautiful than taking a hike through the Columbia River Gorge or the Coastal Mountain Range. We're all in awe of its beauty, and we can replicate those things on a small scale in our own little spaces."
By creating garden environments that include wood snags (decomposing stumps and logs), providing access to water (even a shallow bowl of water helps), shelter for wildlife, and nectar, pollen and berry sources through plants, Lory now has an incredibly diverse population of wildlife with whom she shares her space. Among others, she enjoys the company of chipmunks, birds, and a resident family of owls, plus cut-throat trout, giant salamanders, and red-legged frogs in Field's Creek, which runs through her property. Over the course of 15 years, with the help of neighbors and volunteers, she restored the creek to pristine condition.
As we face an increasingly unstable climate, the benefits of plants adapted to our dry summers and wet winters mean that you won't have to work as hard to keep your garden happy because they are already acclimated to our annual weather patterns, even as they become more extreme.
Another misconception is that to use native plants, you need to exclusively use native plants, which simply isn't true.  Although it can sometimes be a controversial stance, native plants can easily coexist with non-natives in a garden — even Lory loves Hardy Fuchsia.  There are so many wonderful climate-adapted plants we can grow here that it would be a shame to limit yourself.  Equally, it would be a shame not to include some native plants that celebrate our regional characteristics.  In other places, like the UK, our own Garrya elliptica is a prized, exotic specimen, so it's all about perspective.
You don't need to start all over in your garden to introduce natives — but when you do have the opportunity, look to add them at various levels (ground cover, perennials & ferns, small shrubs, large shrubs, small trees, and large trees) as that goes a long way towards making sure our local fauna has corridors of habitat in our increasingly urban landscape.
How you use native plants in your garden is only limited by your imagination — you can have a formal-looking garden, something really relaxed, and everything in between using a native plant palette.
You can learn more about our Willamette Valley native plants here: https://www.portlandoregon.gov/bes/article/40355
(photos in this post by Kate McMillan & Kate Blairstone)
GROW WITH US
Join one of the West Coast's largest gardening communities and meet other gardeners who share your passion.