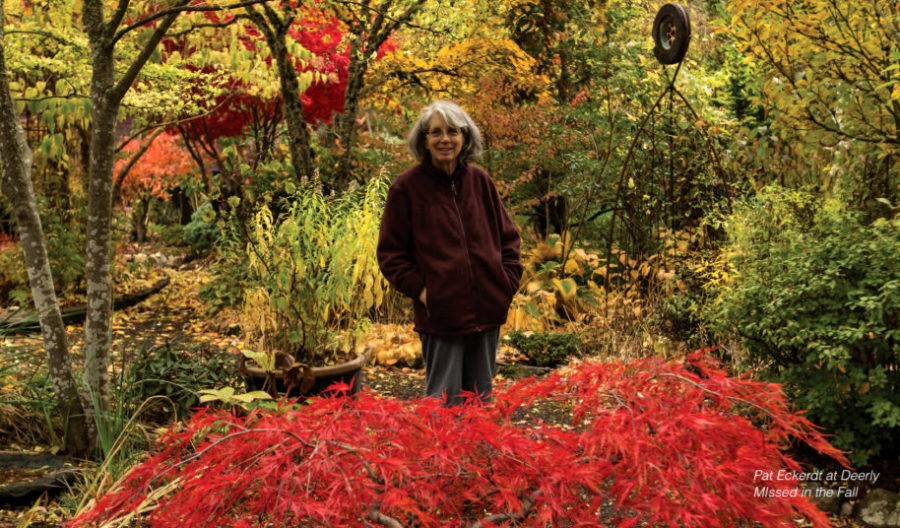 "Why I Garden" essays appear intermittently in the HPSO Quarterly magazine. We hope you'll enjoy a few of these stories from our archives and we invite you to submit your own essay on the subject. Contact the Quarterly Editor, Eloise Morgan (rcmelm@aol.com) for submission details. Dave Eckerdt's essay first ran in the Winter 2015 issue…
***
I live in a garden. I am a lucky man. I am guilty of not fully appreciating the wonder I now feel each day as I move about our garden. My consciousness of living in a beautiful world evolved slowly. Early on in my life "garden" was simply the word we used for whatever was out the front or back door. Our family had a few common sense garden rules. Mow at least bi-monthly. Avoid parking cars atop shrubs with thorns. Don't water the plants if you don't want to prune them.
I married a gardener. I am a lucky man. So many changes came with marriage. The sock drawer became bewitched, yielding fresh, paired offerings. Eating sessions turned into tasty meals, and color came into my life. We moved frequently but somehow wherever we settled a house and a yard were transformed into a home and a garden. While the distance each morning from our front door to my parked car remained the same, my transit time kept lengthening as plant wonders materialized along the pathways. I was allowed to claim these findings as my own and upon reporting upon my discoveries each evening I began to detect a knowing nod. The plants proliferated, my enthusiasm bloomed, and I contentedly became a dirt digger.
My friends tend to be gardeners. I am a lucky man. It is the diversity I most enjoy in gardening. There are so many varieties. Some are quite simple, others highly complex. There are tender ones that we walk amongst gently, and those hard as oak that we lean into for support. There are some with deep roots who establish their territory and hold their ground, some that saunter closely about, and some that drift chaotically wherever the wind might take them. Almost all are a pleasure to encounter and each brings us smiles. Each is a contributor to this world we share and each is special. I am speaking, of course, of the gardeners. I also like the plants.
New friends and new plants find their way into our lives either through our garden or their own. Sometimes these friends become constants in our lives, sometimes they are folk I have never met. Pat and I have a rigid rule meant to stem perpetual horticide. If we cannot keep a genus/ species alive in three attempts we concede that it is better for the survival of that species if we do not try again. We have been admirably resolute in honoring this pledge. For instance I was intellectually attracted to Gordonia lasianthus, an evergreen at home in the swampy pinelands of the southeast. It is said that when you cut down a mature Gordonia the wood has a strong aroma of fresh oranges and pine and that slicing open the dead trunk and exposing it to the sun for a number of years will result in an attractive satiny wood. I felt I could put up with the beautiful evergreen foliage and the perfect white flowers until it was of sufficient stature to harvest the tree and confirm these assertions. Unfortunately our three Gordonia each failed to survive beyond twig size. We are never, ever getting back together with Gordonia.
Sometimes exceptions must be made. We are now on our eleventh, and perhaps final, Franklinia alatamaha. Franklinia is extinct in the wild and we are guilty of depleting the surviving nursery stock. Our fondness for Franklinia is feasibly forgivable. This graceful deciduous tree offers late fall pure white flowers at a time when the garden's chlorophyll is degrading into nonfluorescent chlorophyll catabolites (leaves turning red). Over twenty-plus years Pat and I have tried eleven different sitings for Franklinia in the two-acre garden we call 'Deerly Missed' hoping one would take hold.
The accomplishments of the athletic department at North Carolina State University have been dwindling but the horticulture department has more than taken up the slack. Thomas Ranney PhD (Phenomenal horticultural discoverist) and his associates endeavored to find a solution to our Gordonia/Franklinia despondency. Their hybrid cross is reaching the nurseries as Gordlinia grandiflora. Our Gordlinia has already survived a week at 8 degrees during our last winter and showed no damage. It is planted in full sun with good drainage and is a focal point of our immediate garden. The five-foot tree is semi-deciduous and will hold about twothirds of its leaves. The evergreen heritage is apparent in these sturdy summer green leaves while the Franklinia influence warms the plant with autumn shades of red and orange. Gordlinia treated us to a succession of dozens of simple white blooms over the month of October, each taking its turn for a few days before yielding to the next.
I will likely never meet Dr.Thomas Ranney, but I think of him and his associates as friends because they have brought joy and beauty to the garden. The tree itself was a remembrance gift and brings us continual pleasure.
Another rigid rule in our garden is that every new accession receives a permanent label when it arrives. Sometimes garden gremlins scheme to expropriate these nametags, as was the case with a then "no name" perennial. Seattle plants man Arthur Lee Jacobson was visiting and was very untypically stumped as to what he was looking at and vowed to identify the plant for us. Arthur began his quest after returning home and, still confounded, found the need to solicit suggestions from his circle of friends. We were courteously copied on email correspondence and enjoyed viewing responses from horticultural heroes we recognized from book covers and nursery catalogs. Friends helping acquaintances helping strangers. Though we work outside we are not outsiders, we are a part of the garden clan.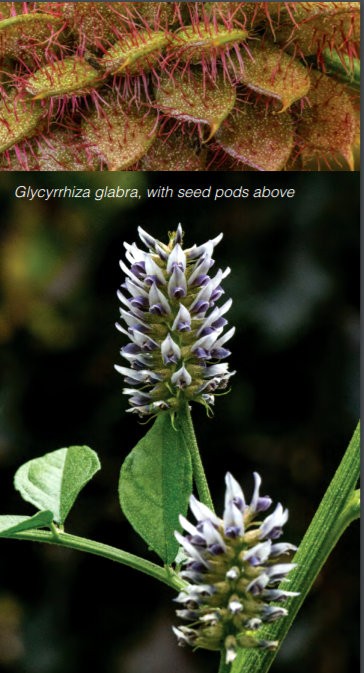 The "aha" answer came from Scotland's Peter Cox. Glycyrrhiza glabra is an herbaceous perennial sending up arching square stems 6 feet or more above ground level, all supported by a taproot 4 feet or more below the patch of dry gravelly soil it calls home. In summer the plant produces two-inch towers of white and bluish-purple flowers. Stems and leaves are liberally sprinkled with raised pinpoint prickles of white. In late fall the flower clusters transmute into amazing alien-looking spike-covered walnut-sized seedpods. The root is the source of an edible treat consumed for over 30 centuries and now commonly known as licorice. I love introducing visiting gardeners to this awesome plant.
I am a gardener. I am a lucky man.
Photos of the garden can be seen at deerlymissed.smugmug.com
GROW WITH US
Join one of the West Coast's largest gardening communities and meet other gardeners who share your passion.