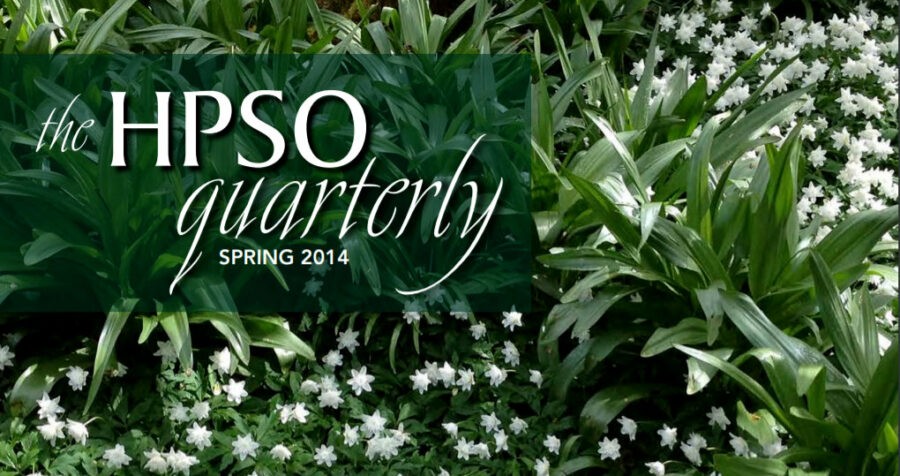 "Why I Garden" essays appear intermittently in the HPSO Quarterly magazine. We hope you'll enjoy a few of these stories from our archives and we invite you to submit your own essay on the subject. Contact the Quarterly Editor, Eloise Morgan (rcmelm@aol.com) for submission details. Kim Pokorny's essay first ran in the Spring 2014 issue…
***
I fell in love with the house on the corner, the one with no plants at all. As an avid gardener, I coveted the bare ground and the full sun. I could finally plant the 'Cecile Brunner' rose my grandmother had loved. Every spring when the pink, sweetheart blooms opened, I thought of her. I remembered the weeping willow in her backyard that my brother and I hung from and the birch tree that dropped catkins I mixed into mud pies.
On both sides of my family, gardening is a big deal. My paternal grandfather puttered with orchids and African violets in the misty greenhouse at the bottom of a terraced backyard. On the veranda, lush fuchsia baskets hung just out of reach. I wanted so badly to burst those fat buds between my pudgy little fingers.
It was my parents, though, who ensured my love of plants. In the early '60s, my dad bought land in northern California amidst gorgeous old valley oaks, wheat fields and almond orchards. He built a greenhouse, strung shade cloth over a frame and began the wholesale nursery he still runs at 83. That business framed my life. I had five brothers and a sister. From an early age, we worked weeding, watering, loading trucks – whatever needed to be done. You'd think all that labor would have had the opposite effect and turned me against plants. But I loved the moist, earthy fragrance in the greenhouses and the long, straight rows of gallon cans stretching down the fields.
By the time I went off to college, the nursery had grown to 65 acres and almost 100 employees. On vacations, I'd walk down the graveled but still squishy aisles in the houseplant greenhouses, grabbing begonias, coleus, Boston ferns, philodendrons and anything else I could stuff into my light blue VW bug to drive back to my tiny apartment. That's when it happened. I fell deeply, madly, greedily in love with plants. Years later, when I found the house on the corner in the Overlook neighborhood of Portland, my obsession got free rein. My first home. My first real garden. Time to grow my own story.
So I began, and I discovered that digging in the soil washed my troubles away. I once wrote a story about a woman who was fighting breast cancer with calmness and humor fed by her newfound love of gardening. She planted her bra with pansies and called the peace she found "magic." That magic hits every gardener in some way, be it the simple satisfaction of clearing a bed of weeds or the excitement of being the first of your friends to score a rare plant.
I felt the magic every time I dug out a new bed. Garden design wasn't in my wheelhouse in 1990. Instead, I'd gather my purchases, stand back, walk around and slowly puzzle out my garden. Mistakes were not uncommon. I don't remember those, though. I remember the little miracles like the manzanita that curved and knotted itself down a slope or the totally accidental brilliance (at least to me) of my tiny rock garden.
Three and a half years ago, it became obvious that I needed to downsize. At first, I would lie in bed at night and go through the garden plant by plant in my mind's eye. "I must take the yellow hellebore," I'd think. "Oh, and the new 'Orange Rocket' Berberis. And I can't forget my favorite grass, Panicum 'Cheyenne Sky'." When sleep came, I'd still be making a mental list.
Gradually, I let go. A hundred "must-take" plants became 90, then 85. In the end, I took only 26 plants with me. I couldn't say goodbye to the weeping larch that lived in a pot in my back courtyard for 20 years or the unusual variegated ginkgo called 'Majestic Butterfly'.
But I had to leave the 'Cecile Brunner', which loomed large in my life and my garden, eventually growing up to my second-story window. In spring, everyone wanted to know what was the rose at the house on the corner? I would tell them about my grandmother. In return, they'd share a story.
Twenty-one years after finding my house on the corner, I started anew. Just like the first, there were no plants at all when I bought my new home. The lot is sunny, flat, and full of potential. All the designers I've gotten to know over the years influenced me more than I realized. This time, I thought ahead. The bones are clean and somewhat contemporary; I actually measured from fence to fence before digging the path and planted the trees in a square. I know where the shed will go, the place and measurements of my future arbor and patio. The bamboo hedge is in; I've even planted boxwood.
Some of the grass will stay, but much of it is not-so-slowly giving way to the plants I love. Of course, a lot of those I left behind three years ago have reappeared or soon will. The manzanita is back, as is 'Cheyenne Sky', 'Orange Rocket' and the yellow hellebore.
So, I've written the first chapter of my new story. I'm excited about those to come. Over the years as a gardener and writer, I've heard hundreds of reasons why people garden. There are many ways to say it, but it all comes down to one thing: It makes us feel good. spring, everyone wanted to know what was the rose at the house on the corner? I would tell them about my grandmother. In return, they'd share a story.
GROW WITH US
Join one of the West Coast's largest gardening communities and meet other gardeners who share your passion.