ARTICLE BY: PETER HERPST
A special education teacher by day, a glass artist by night, and a choir director on Sundays; Peter Herpst somehow finds time to garden as well. He's been expertly tending his .26-acre Eden in Tacoma, WA, for 26 years now. His personal jungle features everything from the rare to the common, all grown to perfection and planted with Peter's one-of-a-kind style. Peter blogs at The Outlaw Gardener, where he shares his plant shopping, garden visiting, and vase-filling adventures.
***
Why would a mostly sane person wake up at the crack of dawn and drive two hundred miles to attend a plant sale? Well, Hortlandia isn't just any plant sale, it's the Hardy Plant Society's once-a-year gathering, under one roof, of the best Pacific Northwest specialty growers. Table after table of plants both common and unusual, await adoption by lucky attendees. We're lucky in this region to have so many fabulous nurseries and growers but to have so many in one location is a special treat not to be missed.
As a poet loves words, a gardener loves plants. We garden for myriad reasons, but we've all been lured by the siren song of some leafy lovely or other. There are brave souls who travel the world on plant expeditions, hiking to remote locations, sleeping in tents, and enduring hardships to discover and introduce to commerce new species or varieties of plants. While the thrill of seeing a previously-unknown plant for the first time in its natural habitat is probably not in the cards for most of us, attending Hortlandia can provide a bit of the same thrill as we discover plants new to us.

The educational plant displays are a fabulous resource for those seeking plant identification or wondering what might be looking great in local gardens at the time.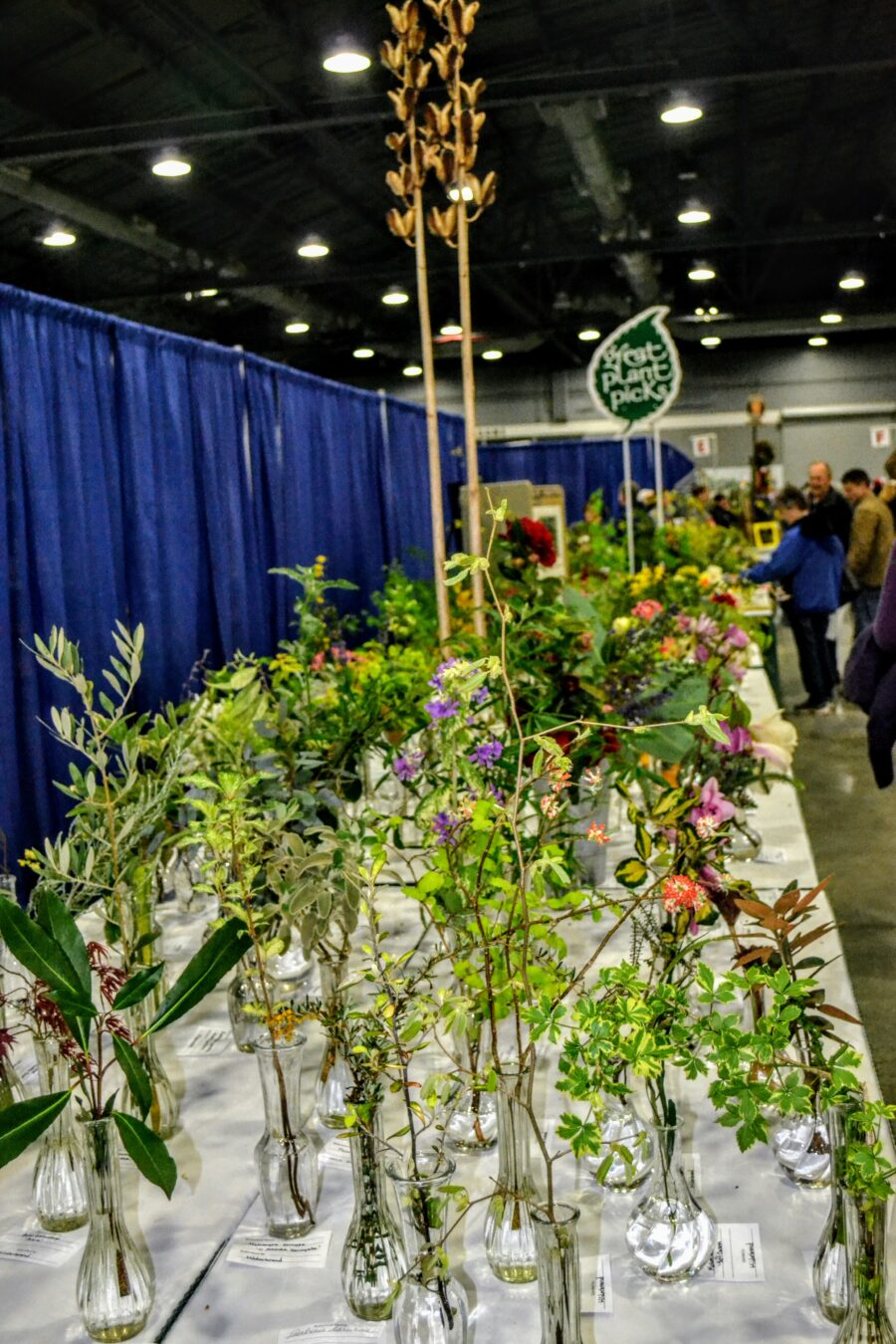 If Hortlandia only included plants and garden art, it would be worth the drive but there's more. This year for the first time HPSO is including the Grow With Us lecture series. What's even more fun than all of that? Sharing the excitement with other garden enthusiasts. From conversations with new friends (gardeners are never strangers) while waiting in line for the doors to open to sharing our finds with old friends we bump into inside the sale, the joy of gardening is palpable.
Whether you're a new gardener or a lifelong devote of the goddess Flora, there'll be something at the HPSO's horticultural happening to tempt, entertain, and educate you. So, why do I Hortlandia? To quote Paula Deen as she's adding a cube of butter to one of her creations, "Because I can!"
Hortlandia is April 20th & 21st, 10am-3pm in 2019 at the Portland EXPO Center. It's free and open to the public. Learn more here: hortlandia.com
GROW WITH US
Join one of the West Coast's largest gardening communities and meet other gardeners who share your passion.